The Biggest and Most Vibrant Brookies of 2015:
As 2015 is coming to an end, Trout Haven is reminiscing about the superb fly fishing gifted unto us this season.  We've caught some impressive brown trout and we've caught rainbow trout behemoths… A big "thank you" to those who posted pictures of monster rainbows on Trout Haven's facebook page.  Lastly, we are recalling 2015's biggest and brightest brook trout, my favorite cold-water game fish.
4. Westfield Beauty – Westfield River
Caught on the East Branch of the Westfield River in Massachusetts, this brook trout is the most vibrant and beautiful fish I have ever seen.  2015 was an unusually great year to catch brook trout on this river, but this brookie was unquestionably the prettiest catch of the year.
3. Spring Brookies – Spruce Creek
Spruce Creek holds mostly brown and rainbow trout, but an occasional brook trout finds its way to your net.  Due to the perfect stream conditions, most of the resident brook trout are plump and feisty.
2. Bob's Bounty – Spruce Creek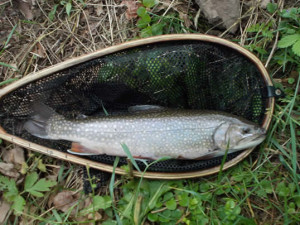 A nice 17″ trout, this brookie struck a size 16 caddis on the surface and put up an amazing fight!  After taking this quick picture, Bob carefully released the brook trout hoping to see him again in 2016.
1. Tom's BIG Brookie – Spruce Creek
Another example of the world-class trout fishing offered by Trout Haven at Spruce Creek, this brook trout tips the scales of unbelievability.  Over 20 inches long, over 5 pounds, this is the fattest brook trout Tom and I have ever seen!  This was the only picture taken of the fish before it was carefully released… who knows, maybe YOU will be the next lucky angler to find this behemoth at the end of your line.
2016 is filling up fast… Don't miss your opportunity to book a Trout Haven adventure to Spruce Creek!