Five of the Biggest and Brightest Browns from 2015:
What a fantastic year it's been for fly fishing!  The Northeastern states experienced great weather and ample rain over the summer.  The fall fishing has been extended due to a mild start to Winter.  Quality fish are coming to the net – on dry flies – as recently as  a few days ago.  2015 will be hard to beat!
5. Greg's October Brown – Spruce Creek
Caught at Spruce Creek within 20 feet of where we were standing, this 21″ gold-belly brown took a BWO nymph and refused to let go!  That day was very cold, but Greg was smiling wide after landing this beauty.
4. "Delaware" River Brown – Tributary to the Delware
This fish makes the list due to where and how it was caught – a tiny tributary to the East Branch of the Delaware River.  Most fish here never top 14″, but this big 20″ male came out from under his log to grab a large indicator dry fly – the Strike Doctor by Fly Fishing Innovators.
3. The Admiral's Catch – Spruce Creek
October is a great month to catch beautiful browns.  The Admiral, a.k.a. Grogg, caught this 21″ male on a tiny size 18 dry fly at the "bench pool."  Spruce Creek is loaded with trout in the 20″ – 25″ range.
2. August Browns – Spruce Creek
A draw! This pair of 24″ behemoths both took minuscule size 20 black ant dry flies at sunset.  The brown on the left was caught by Dennis and a few minutes later the one on the right was caught by yours truly, both at Spruce Creek.
1. Spring Brown – Spruce Creek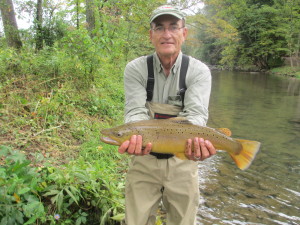 The fattest brown trout of the year, this beefy male was caught by Tom on a large dry stonefly in the Spring of 2015.  Another Spruce Creek treasure, you have to fish this creek to believe the impressive number of quality trout that inhabit its pools and riffles!
Looking forward to another great season in 2016! Reserve your Spruce Creek adventure today!