Terrestrials: The Best PA Summer Fly Fishing
Terrestrials: The Best PA Summer Fly Fishing
However short-lived, the recent mild temperatures are a welcome relief. With overnight lows dipping into the mid-50's, conditions on the local limestone streams are perfect. In my opinion, terrestrials provide the best PA summer fly fishing experience. What's more fun than catching big trout on dry flies?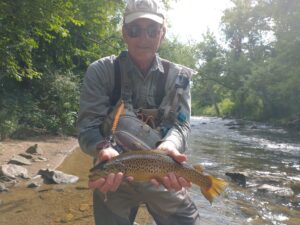 Incredible Sight Fishing
Tucked in tight to the bank, sitting in shade, we spotted a large brown trout sipping on dry flies. With the over-hanging branches, it was a likely spot for success with a black ant. Of course, this fish was rising next to a tangle-magnet — a stick that was poking out of the water. Leading the fish with a proper drift was impossible, so the best I could do was hit him on the head and hope. After one refusal, and a brief rest, he slammed the fly! Sight fishing with terrestrials is the best of the best PA summer fly fishing!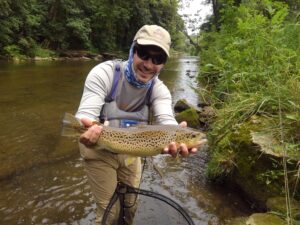 Trico Bonus
For those who prefer the classic "match the hatch" game, the best PA summer fly fishing hatch is the Trico hatch. Because they are so small, and the fish are picky, you will need 6x or 7x to fish the trico hatch. If the fish are still being picky, try changing your approach and offer a downstream presentation. Yes – setting the hook is more difficult when fishing downstream, but at least you will have a shot at hooking them.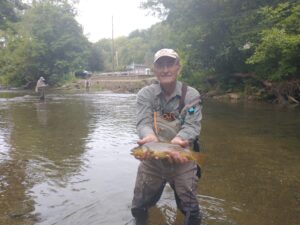 Tricos Subsurface
Oftentimes, during a trico hatch, I will have success with a zebra midge subsurface. The huge brook trout pictured below took a size 22 zebra midge just a few feet below the surface. If the terrestrials don't provide the best PA summer fly fishing, the tricos and zebra midges will!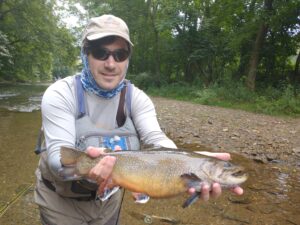 Little Lehigh Creek
All of the above fish, plus several more, were caught on Little Lehigh Creek on August 4, 2021. The water temperature peaked at about 63 degrees, which was perfect. We are currently running a 10-Day special pricing event on Little Lehigh Creek, now thru August 13th: 5 hours on the water, 7am – 12pm, pricing is $300 for one angler, or $400 for two anglers. Sign up below:
767 Comments