Best Rainbow Trout of 2015
3 of the Biggest and Most Colorful Rainbow Trout of 2015:
As 2015 is coming to an end, Trout Haven is getting nostalgic over the excellent trout fishing we had this year.  Several trophy rainbows came to the net on dries, nymphs, and streamers.
3. Jamie's Big Rainbows — Spruce Creek
This pair of brutes highlighted a fantastic trip for Jamie!  Caught in May during prolific sulphur hatches, these rainbows know how to put up BIG fights!
2. Wayne's Willow Pool — Spruce Creek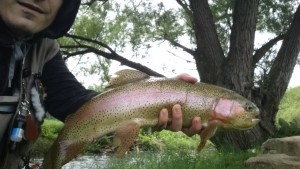 This beautiful rainbow is one of several HUGE trout that like to reside in this willow pool shown in the background.  This feisty rainbow jumped clear out of the water 3 times before coming to the net.  Caught on Trout Haven's Golden Stonefly nymph in May 2015.
1. Log-Jam Legend — Spruce Creek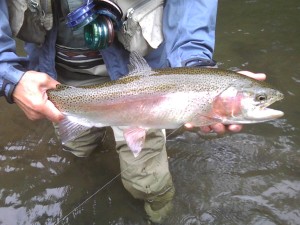 A monster trout, this was the one of the biggest I've seen! This fish currently swims the same Log-Jam pool, waiting for a savvy angler to try his luck! Caught on a size 18 Rainbow Warrior, tied by Trout Haven.  Several fish in the 24″ – 30″ range swim in this pool and others at Spruce Creek.
Other Honorable Mentions:
Like Trout Haven on facebook and post a picture of your biggest rainbow from 2015!
Join Trout Haven at Spruce Creek for an unforgettable fly fishing adventure!