Delaware River Fly Fishing Trip
Delaware River Fly Fishing Trip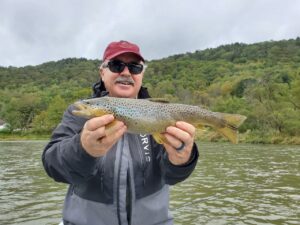 We are pleased to report that Trout Haven's inaugural Delaware River fly fishing trip produced some impressive wild brown trout! Our trip included two full days floating on the West Branch of the Delaware River. It fished well despite the 2″ of rain on our first full day.
Nymphing for the Big One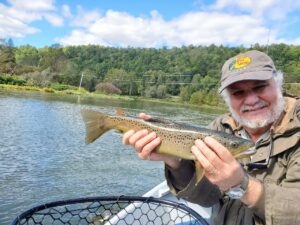 This big male brown took a size 18 midge nymph, what a beauty! The previous day's rain put a damper on the dry fly fishing. So, we decided to switch things up and fish nymphs on day 2. With results like this, we were happy to have switched!
The Lucky Caddis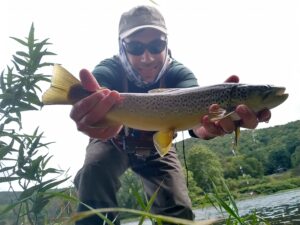 Trout Haven's Delaware River fly fishing trip includes fantastic lodging right on the banks of the main stem, the upper Delaware River. On the first morning, we were lucky enough experience a good caddis hatch. Some fish hit soft hackles on the swing. This nice brown above took my favorite caddis soft hackle pattern just a few inches underneath the surface.
First Fish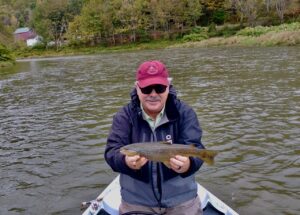 Rich had to show us all how it's done by landing the first fish of the trip, this beautiful female brown. In just a few weeks these fish will be on their redds and spawning, filling this beautiful river with more wild trout. The Delaware River system is truly a special place on the east coast, a must-see destination for fly fishing anglers.
---
Join us for next season's Delaware River Fly Fishing trip! Visit our Delaware River Fly Fishing Retreat webpage for more information.
404 Comments