Spruce Creek PA Guided Fly Fishing Trip
Spruce Creek's reputation extends across the World with famous athletes and former US Presidents fishing its waters.  
Abundant year-round hatches, HUGE trout, Great Lodging...
There is no wonder why Spruce Creek is a top destination for fly fishing anglers. 
Exclusive access to pristine private water
Limited guiding service for each guest
Luxurious lodging at Hemlock Lodge
World-renowned trout fishing
Meals, snacks, self-serve open bar
Gourmet dinners - menu examples
FREE membership to Trout Unlimited
Spruce Creek is Catch & Release only
Hemlock Lodge includes free cable & WiFi
Deposit 50% to reserve your trip
Trout Unlimited endorses Trout Haven
Please read our FAQ page for answers to common questions
Spruce Creek is located in Central Pennsylvania, near State College, PA.
Please scroll below for 2023 pricing.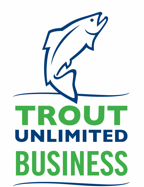 Trout Haven offers three vacation packages to accommodate your schedule and needs.
Voyager Package
48 Hours at Spruce Creek
Odyssey Package
72 Hours at Spruce Creek
 Please submit the form to request availability.
*Denotes a Required Field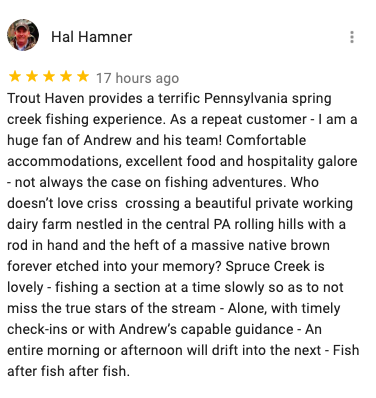 "Hi Andrew,
I just wanted to drop you a note to say thank you for an excellent three days on Spruce Creek.
Each year for the past eight years I have traveled to my bucket lists of streams to fish from Montana to New York. This year I was looking for an excursion that was more focused on relaxation while still hitting a trophy trout stream; I wanted to eliminate the daily car travel between streams and "good spots" that typically made for good fishing but I always felt rushed. The stay at the Hemlock Lodge hit on all cylinders as I was able to park my car on Wednesday and never had to get back into it until my trip ended on Saturday. Spruce Creek offers challenging fly fishing, enough stream for a three day trip and big healthy native browns and rainbows that will test any blood knot.
Both yours and Tom's guiding service was on point and just enough to get me on the right track to also test my own theories of catching the elusive Spruce Creek monsters. What I liked most was being able to get up and be on the stream by 6 AM and go at my own pace till late in the evening.
The lodge accommodations were extremely comfortable and Andrew, your breakfast, lunch and dinners were well prepared and thought out. Thanks again for your hospitality and a memorable and truly relaxing three days on Spruce Creek.
Sincerely,
Vince K.
Richmond VA."
"I've been three times and the guide service and fishing has been incredible. Beautiful creek goes on for miles on this property. The guide service is everything you could want. The fish are beautiful and the waters are right next to the lodge. The lodge is in excellent shape, comfortable and perfect for me."
Rich A.
Woodbridge, VA.
"I have to say the trip with with Andrew @ Trout Haven was amazing, the fishing was unreal and the setting matched it. The creek has the best dry fly fishing I have ever done and the early morning streamer fishing is something that you just have to try - words can't describe it! I really like that Tom helps out, you get a little new school and some good old school tips. The lodge is unreal and the food was out of this world and let's not forget the beer tasting at the end of dinner. I would give this fishing trip 5 stars!!!"
Todd J.
West Chester, PA.
"Had a great time with Trout Haven! Thank you, Andrew. Fishing, accommodations, guiding - first class!
Will be back!"
Mike B.
Brick, NJ.
"Many, many thanks again to you and Tom. Best fishing ever. I WILL be back!
Thanks for the pics and memories." 
Randy Y.
Williamsburg, VA.