Native trout are truly magnificent creatures.  Flawless long fins, brightly colored bellies and spots, and an insatiable appetite for invertebrates are all distinctive traits of native trout.  Here on the eastern side of the United States, native trout do not exist. Brook trout are the only native "trout" species in our eastern river systems, but they are not technically trout – they should be called Brook Char, but I doubt that the misnomer will ever subside.  Here's a native brook trout caught in upstate NY: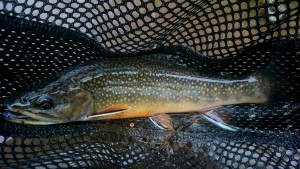 While native trout do not exist in the eastern US, wild trout do.  Wild trout are descendants of transplanted ancestors – rainbows or browns that now have a spawning sustainable population in their new homes.  Pennsylvania, with its numerous limestone streams and cold underground springs, hosts hundreds of "Class A Wild Trout Waters."  Here are some pictures of these beautiful specimens:
One thing you'll notice on these wild trout – both brookies and browns – is the white crest on the leading edge of all pelvic fins.  You'll also notice that these wild fish are usually smaller than your average trophy trout.  It is hard to come by a wild trout stream that can support larger wild trout.
Spruce Creek, as discussed in a previous blog post, has some of the best qualities of both limestone streams and freestone streams.  Not only will you find beautiful wild brown trout on Spruce Creek, but you will also find large trophy-sized wild browns: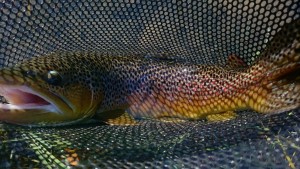 Come experience this special fishery for yourself!