While all types of trout are remarkable creatures, native brook trout are especially magnificent.  There is something alluring about their colors, their vigorous appetite, and their uncanny ability to live in inconspicuous places.
Upstate New York harbors some of my favorite brook trout water – small streams at higher elevations with cold spring water.  Some medium-sized upstate rivers, like the Otselic River, are able to hold brook trout along with the stocked and wild browns.
As discussed in a previous post, brook trout are technically a species of char, not trout.  Regardless of what we call them, they are my favorite trout/char for which to fish.  They will often hit a well-placed dry even if no hatch is evident – a very fun and cooperative fish indeed!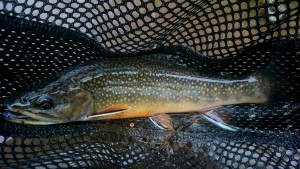 Check out our Gallery for more Trout Haven pictures of beautiful trout, and click here for an unforgettable Spruce Creek adventure!