Best Fly Fishing in Pennsylvania
5 Reasons why Spruce Creek is PA's top fly fishing destination:
1. Big Beautiful Trout
Spruce Creek is home to some of the best fly fishing in Pennsylvania because the trout can grow to truly impressive sizes. Browns, brookies, rainbows… All can grow to be well over five pounds.  There are two main reasons why Spruce Creek can produce and sustain such large trout – items 2 and 3 below.
2. Abundant Insect Life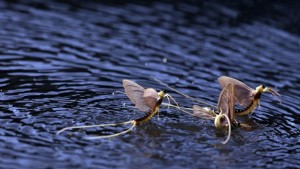 Blue Quills, Sulphurs, BWO's, Tricos, Countless varieties of Caddis, Terrestrials … Spruce Creek hosts some of the most impressive hatches in Pennsylvania, and hosts a diverse variety of hatches as well.  The trout at Spruce Creek are cooperative and will take a carefully presented dry fly currently hatching – the big rainbow above was taken on a size 22 trico pattern.
3. Limestone Springs
You might be wondering, "how does Spruce host such impressive hatches?"  Spruce Creek receives approximately 80% of its water flow from a nearby healthy limestone spring tributary.  Limestone springs offer cold water rich in alkaline (high) pH levels.  Trout fishermen know that cold water means healthy trout, but some do not know that alkaline pH means healthy and abundant insect life.  Limestone springs often have the drawback of a grassy and weedy stream-bed.  Not so with Spruce Creek, which is a freestone stream with a varied stream-bed of rocks, gravel, and silt.
4. Solitude
Spruce Creek is mostly privately property.  You will not encounter an overcrowded, noisy, or over-fished creek here.
5. Intelligent Maintenance 
Some streams are so neglected that they are almost impossible to fish (unless you enjoy hooking branches every other cast).  The stewards of Spruce Creek are themselves expert fly fishermen – they know what keeps trout healthy and what makes anglers happy.  The stream holds a healthy spawning population of wild trout and receives ample numbers of new recruits.  The pools are numerous, approachable, and hold feisty large trout.
Book a trip today and experience some of Pennsylvania's best fly fishing!
26 Comments