That's right… yesterday was mostly sunny with air temperatures around 53°F.   There were no fish rising, and very few small bugs coming off the surface.
On water like this I usually start with a prospecting dry-dropper rig.  Trout Haven's Madam X proved to be an effective dry fly once again – so effective that I eventually ditched the dropper and fished only the dry.  It was encouraging to catch a few wild browns before winter strikes.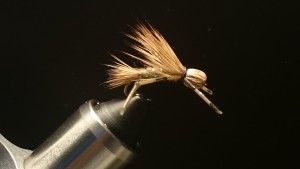 Take advantage of the sunny mild days, you might be happily surprised by how many trout are still looking up.  Look for drifts in the foamy seams and slower currents.  Stealth and patience will be rewarded.  Check out the Spruce Creek page to fish with Trout Haven this season!