Pennsylvania's Valley Creek – Dry Fly in January???
Valley Creek's Wild Trout
Valley Creek is a unique place, to say the least. Never before have I fished a creek flowing through land that is so imbued with rich American history. After rigging up and locking my car, I leisurely strolled by George Washington's quarters – the building where he took residence during the Continental Army's encampment at Valley Forge in 1778. The Continental Army used as a natural line of defense the confluence of Valley Creek and the Schuylkill River.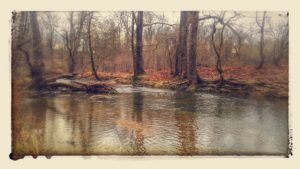 I'm sure that this beautiful creek was once full of brook trout 250 years ago but, unfortunately, Valley Creek's history includes that of sewage drainage, a sewage pipeline, and the current deterioration of said pipeline. Multiple instances of sewage leakage prompted a de facto "Catch & Release" designation by the state. The state of PA has also designated Valley Creek a "Class A Wild Trout Stream," which means that Valley Creek is not stocked and that its current non-native brown trout are stream-born descendants of fished stocked generations ago…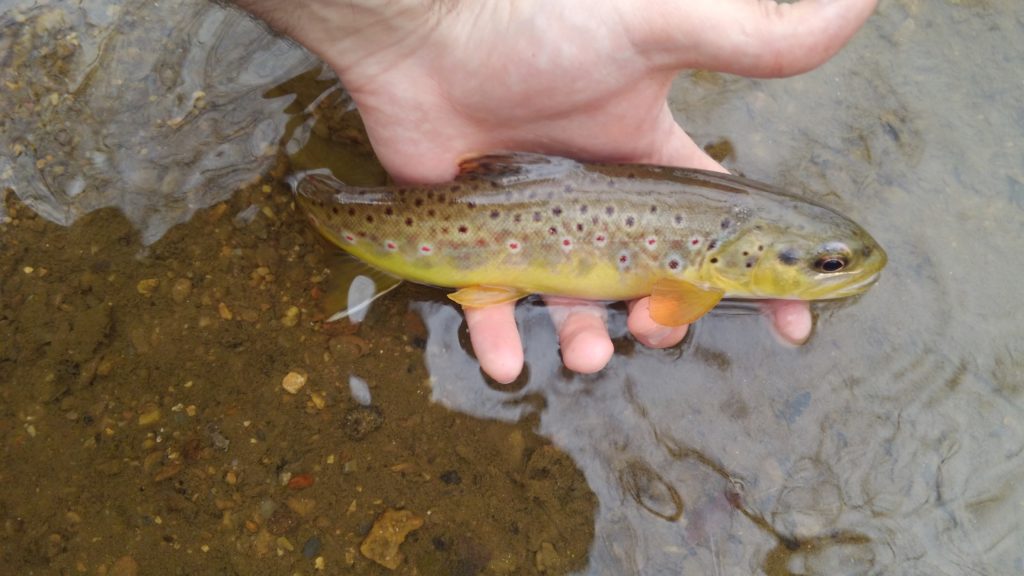 … And what beautiful wild fish they are! Despite the sporadic sewage leakage, these resilient wild browns have found a way to survive and thrive. Valley Creek is fed by a limestone spring that contributes greatly to the health and food supply of the trout. The alkaline pH of the water supports great insect hatches, even in January!
I was fortunate to fish on an unusually mild January day last week, when air temperatures peaked at 60 degrees. My mission was to explore sections of Valley Creek that were new to me, and to experiment with a brand new specialized nymphing rod. After having a very successful morning with nymphs, I couldn't resist matching the midge hatch that was bringing up trout everywhere. They refused every variation of Griffith's Gnats that I owned, so I tied on the smallest dry fly that wasn't a Gnat – a size 24 elk-hair pattern.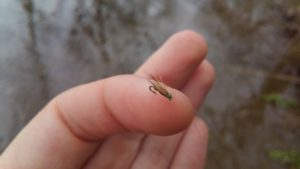 After a few good drifts I finally connected with a good-sized brown. Most of the fish I've landed on Valley Creek are between 6 and 9 inches long, so I was very pleased to see this 12″ brown take a dry fly in January! Last year I was happy to have success with a dry fly in November and again with a dry fly in December – time to check January off the "bucket list" too.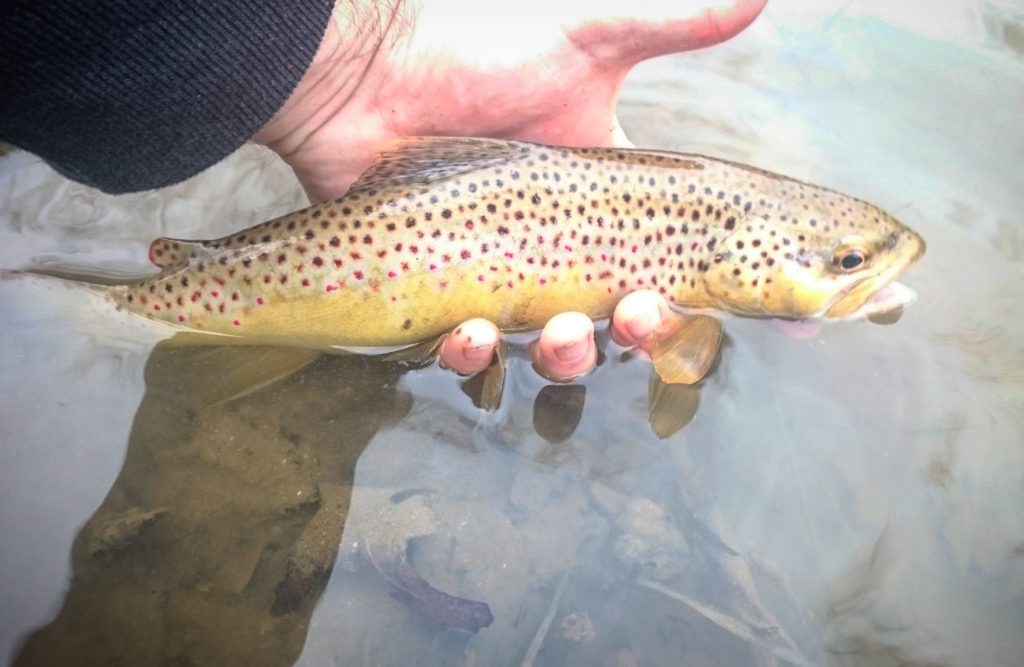 ---
If you're thinking about taking an awesome trip to Spruce Creek this year, contact us asap! Trout Haven's 2017 Spruce Creek dates are filling up rapidly. Visit our Spruce Creek PA Guided Fly Fishing Trip webpage to request your trip.