Central PA Fly Fishing October Highlights
Central PA Fly Fishing October Highlights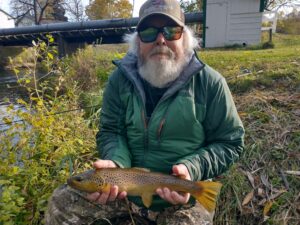 With its autumn colors, colder nights, and great fishing, October is my favorite month in Pennsylvania. As trout begin moving upstream in preparation for the spawn, some of the bigger fish become more aggressive. The beautiful brown trout pictured above, caught by David, was one of several central PA fly fishing October highlights. Here are four more:
4. Lunker Brookie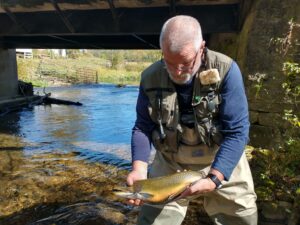 Surprise! Neither I nor Bud expected to see such a massive Brook Trout on this warm October day. Tucked in close to the bank, this beautiful male brook trout took a small pheasant tail nymph. You can see the vivid orange belly, one of my favorite things about central PA fly fishing October highlights.
3. Personal Best Rainbow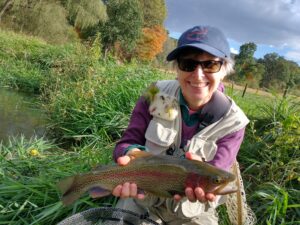 Anne-Marie landed her personal best rainbow trout, a beautiful male, on a size 12 prince nymph. Sometimes the larger classic patterns really work!
2. Terrestrial Magic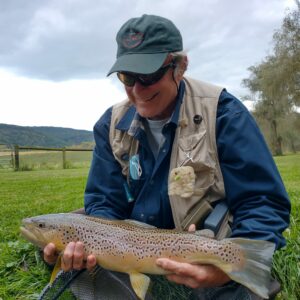 My favorite aspect of central PA fly fishing October highlights is the fish caught on terrestrials. Every season I like to see how late into the season we can still catch fish on grasshopper patterns. Pick a warm and sunny day, and you'll likely find willing fish, even in November! You can read more on that subject here: PA Early Winter Fly Fishing: A Prolonged Terrestrial Season.
1. Bright Red Rainbow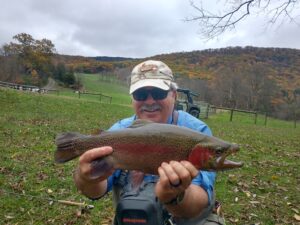 This brilliantly-colored rainbow trout took off like a bullet! Rich was patiently playing this fish around a rock, in and out of a log, upstream, downstream, and finally to the net. This fish took a size 8 olive woolly bugger on a slow retrieve, with no flash in the pattern whatsoever. Great fish!