Missoula MT Fall Fly Fishing 2019
Missoula MT Fall Fly Fishing 2019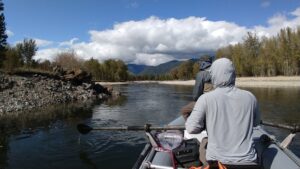 I have an obsession: fly fishing in western Montana. There are seemingly countless creeks, streams, and rivers to fish and they all host wild trout. In fact, I found my favorite creek by accident – it flowed a few hundred yards away from the house I was renting. I decided to wet a line in this mystery creek and it rewarded me with beautiful cutthroat natives on almost every cast, rising to Green Drakes and huge Caddis. This was in July, and my thought process was simple: this place is incredible, life is short, I have to come back in the fall. July was fantastic but I have to say that Missoula MT fall fly fishing is just as good!
Bitterroot Beauties
Rivers are alive, constantly changing and reacting to the flow of the weather and the world surrounding. In July, we focused on the the rivers currently providing the best fishing: the Clark Fork and the Blackfoot. Yet by Fall, the swing of the seasons positioned the Bitterroot at the front of the pack, with fish responding well to grasshoppers and to Mahogany patterns.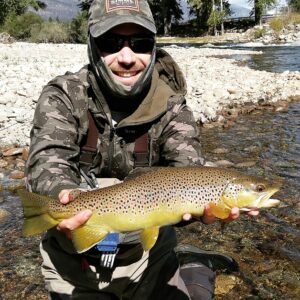 This same time of year, back in 2018, was a whole different story. The Bitterroot held the lowest rank. Check our blog article from September 2018, Missoula MT Fly Fishing Trip.
Missoula MT Fall Fly Fishing – Wading Opportunities
Rafts and drift boats allow you to cover vast lengths of stream in a short amount time. This gives you the best chance of finding the most active fish. It works to your advantage when dry fly fishing and especially grasshopper season. For me, there is one big disadvantage to boats. You have only one or two casts at a promising spot before it passes. I enjoy picking apart a riffle or eddy, with several precise casts, until I cover every likely holding spot.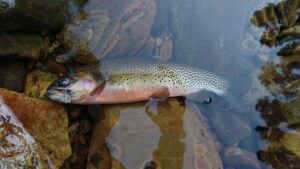 On a stream like Rock Creek, you can find fish hiding behind every single pebble. You have to experience Missoula MT fall fly fishing, prospecting with a dry fly. You will be blown away by how the fish hold in every possible nook and cranny of the creek.