Missoula MT Fly Fishing Hosted Trip 2019 | Trout Haven
Missoula MT Fly Fishing Hosted Trip 2019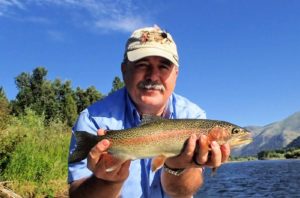 We are pleased to report that Trout Haven's inaugural Missoula MT fly fishing hosted trip was fantastic! You can never predict the seasons to perfection; but we really lucked out with the river flows, the weather, and the fishing on this trip. Early to Mid July can be very rewarding on western Montana's big three rivers: Clark Fork, Bitterroot, & the Blackfoot.
Wild Fish Galore
We saw hatches of Green Drakes, PMD's, Caddis, Yellow Sallies, and even some stoneflies! All 4 guys in our group landed some VERY nice fish including cutthroat, browns, rainbows, cutbows. And we even spotted one bull trout chasing a hooked cutthroat – all wild & native fish! I'm not aware of anywhere else in the world where you can have this experience, Western Montana is truly a special place.
Spectacular Scenery
Several times during our trip, we all joked that the scenery was so spectacular that we almost forgot to fish! On top of that, it was so relaxing to come home to a beautiful lodge and great food. It's only been a few short days since we left Montana, and we're all looking forward to the Missoula MT fly fishing hosted trip for 2020. Don't just take my word for it, here is what David had to say:
You can see the full post here on Facebook.
If fishing western Montana is on your bucket list, or if you're just looking for an awesome fly fishing adventure in 2020, then give us a call! You can see more detailed information on our webpage for Missoula MT Guided Fly Fishing Trips.