Top 5 of 2017: Best Pennsylvania Streamer Fly Fishing
2017's Best Pennsylvania Streamer Fly Fishing at Trout Haven
Thankfully the arctic freeze has passed, the "bomb cyclone" winter storm has come and gone. Local streams have resumed their usual winter character, and the unusual amount of surface ice has somewhat thawed. When yesterday's rain raises water levels and increases turbidity we can have some of the best Pennsylvania streamer fly fishing at Trout Haven.
Today we are looking back at five of those special occasions in 2017, when yesterday's rain made streamer fishing outstanding.
5. Clay's Wild Hog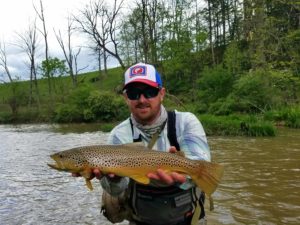 Clay is a fly fishing guide out west. Thanks to high murky water after some serious rainfall, he had a field day at Trout Haven in May 2017. You can see just how muddy the water is behind Clay. It is precisely conditions like this that offer some of the best Pennsylvania streamer fly fishing. This beautiful wild brown was caught on Trout Haven's Real Eyes Streamer, available at our online flyshop.
4. Tom's Hook-Jaw Brown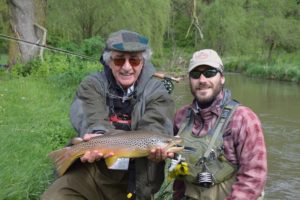 Sometimes persistence pays off. It can be hard to adjust to streamer fishing when you're used to the dead drifts required of nymphs and dries. One of the best strategies for streamers is to cover as much water as possible. Try to hit the opposite bank, cover all the underwater structure, and move quickly. Tom persisted until casting his streamer 2 inches from the opposite bank. He was rewarded with the monster brown pictured above.
3. TYSO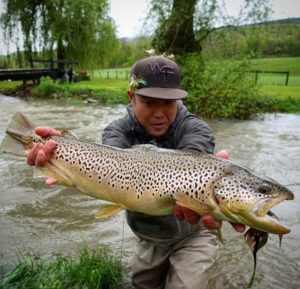 My favorite streamer fly, hands down, is Wish4Fish's TYSO (Tanaka Your Socks Off). You can see the giant streamer fly above, hanging from this giant brown's jaw. You can also see the perfect streamer conditions behind Ken: high and murky water. Ken caught this bruiser during the best Pennsylvania streamer fly fishing month that we had all year, May 2017.
2. "You Take a Cast"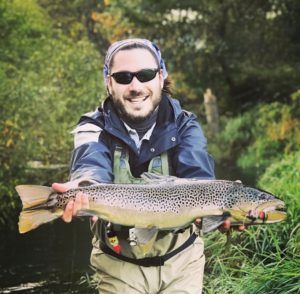 If you follow this blog, then you might remember our November post 5 Huge Trout Highlights: Best Pennsylvania Fly Fishing Fall 2017. It was an early morning in September when Hojin asked me to take a cast and "catch a big one." This huge wild brown must have been listening in to our conversation…
1. Alice's Behemoth Brown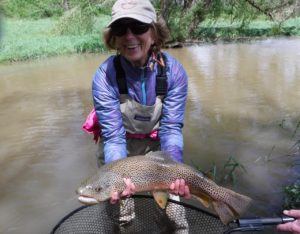 You know you've hooked a big one when the rod just won't budge. When streamer fishing, I always opt for thicker tippet. It's good to know that you can rely on 10 or 12 pound test when you hook a monster. Even with the thick tippet, it took a couple of a minutes before Alice could subdue this massive brown trout. Again, notice the conditions of the water behind Alice. High and murky water provide some of the best Pennsylvania streamer fly fishing conditions.
---
Looking for some of the best Pennsylvania streamer fly fishing? Available dates for 2018 Spruce Creek trips are now posted! Visit our webpage for Spruce Creek PA Guided Fly Fishing Trips.