5 Huge Trout Highlights: Best Pennsylvania Fly Fishing Fall 2017
Best Pennsylvania Fly Fishing Fall 2017
Tomorrow is Thanksgiving and all of us at Trout Haven wish you and your family a happy holiday! Before we feast on turkey Trout Haven is looking back at some of the best Pennsylvania fly fishing that we had during the fall season.
5. Caddis Eater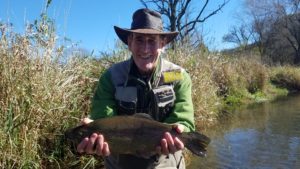 Pictured above is a beautiful 21″ rainbow trout caught during a busy caddis hatch in October. Caddisflies were flying all around us but the trout were focused subsurface on pupa and emerger patterns.
4. Big Brown on a Stonefly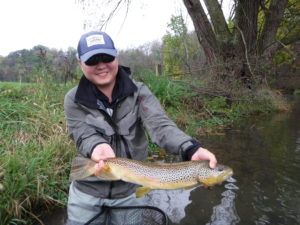 As the colder temperatures take hold, insect hatching activity dwindles and trout hunker down for winter. The trout are less likely to spend energy chasing after food in these conditions. Getting a large stonefly deep and right in front of the trouts' faces presents them with an easy and irresistible meal. Some of the best Pennsylvania fly fishing with nymphs that I've experienced has been using large stonefly patterns in cold temperature conditions.
3. Brookie at Dawn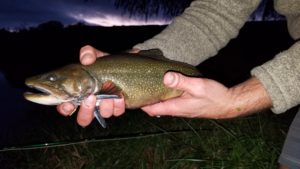 Much like large stonefly nymphs, streamers present trout with the opportunity for a large meal. Bigger predatory fish are often nocturnal feeders. My favorite way to target them is fishing streamers just before dawn, when the trout are still in their nocturnal feeding mode. The big brook trout above was caught on a streamer just before dawn on a cold October morning.
2. "You take a cast"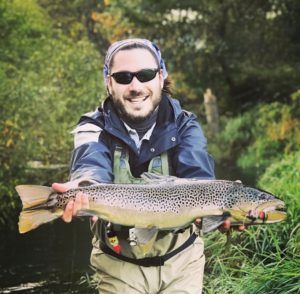 This was a classic morning of streamer fishing with Hojin. Pausing for a cigarette, Hojin handed me his rod and said "I want to see you catch a big one." This monster brown must have heard our conversation, as he crushed the streamer on the next cast.
1. Big Bertha Returns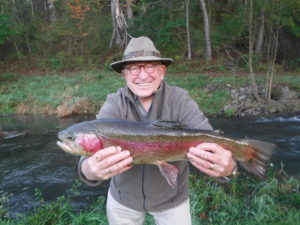 What a beautiful rainbow! This fish is infamous – known by a lucky few as "Big Bertha." She measures 27″ long and has been in her favorite pool for 3 years now. Bill expertly teased Bertha into striking an olive and white streamer on a mild October morning. Coming to the net for a third time in three years, Big Bertha has blessed 3 different anglers with the best Pennsylvania fly fishing of their careers.
---
Sign Up for a 2018 Spruce Creek Trip