Top 5 of 2017: Best Pennsylvania Dry Fly Fishing
2017's Best Pennsylvania Dry Fly Fishing at Trout Haven
We've had one week to settle in to 2018, and so far many of us are shoveling snow while trying not to freeze. These glum winter days have me dreaming of warmer brighter days on my favorite streams. Days when thick hatches provide the best Pennsylvania dry fly fishing.
What better time than now to countdown the five best, not necessarily the biggest, trout from 2017. Every fish comes with a story, and those below are some of our favorites.
5. It Pays to be Stubborn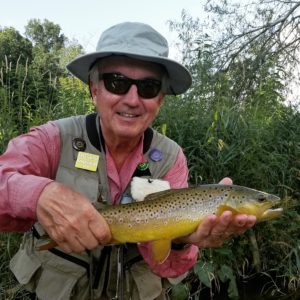 Ed, pictured above, is a precise caster but he was having trouble with the willow branches behind him. I told him to cast 3 feet above a submerged boulder, between the bank and the brush pile. It was a tight cast, and after three tangles he was ready to move on. I said "We're not moving until you get a cast in there." So he tried once more with his beetle, the perfect cast, and we watched this beautiful wild brown rocket up and out of the water grabbing his beetle. Terrestrials are so important and you ought to have beetles your box if you want to experience some of the best Pennsylvania dry fly fishing.
4. The Pool of Perpetual Rises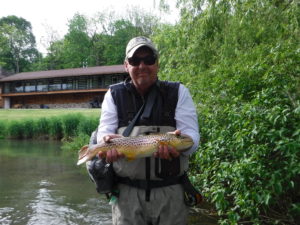 We all can think of that one pesky pool on a favorite stream – that pool where fish are always rising. It's usually the same pool that has the pickiest eaters. After some persuasion by his guide, David tied on 6x and an emerging Sulphur pattern to match the hatch. Four refusals later, we took a few steps closer to the bank to change our approach. One cast into the same run and David slammed this beautiful 19″ brown.
3. Ant Man
There was a motion to rename this pool after Mike C., once he showed us all a masterclass on fishing ants. Within minutes, Mike landed both the fat brown and the gorgeous brookie on black ant patterns. When you see structure like dead trees and fallen branches, remember to reach again for your terrestrials box. Especially in the summertime, the terrestrial patterns produce the best Pennsylvania dry fly fishing.
2. Double Trouble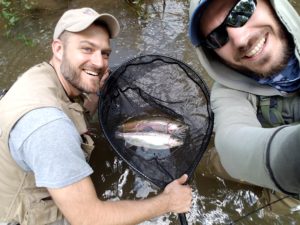 After getting Eric rigged and set up with a hare's ear emerger pattern in this prime pool, I said "holler if you hook a big one!" before I moved 100 yards upstream. Upstream I spotted a monster rainbow in shallow water, just above a submerged rock. The only way I could reach the rainbow without snagging the branches all around me was to creep upstream & roll-cast a beetle in front of him. First cast was too far to the left, but the second was right on target. He took me for a wild ride around several branches. Upstream, downstream, upstream again, and somehow he didn't break the 6x tippet. I landed the fish and peered downstream, only to see Eric mid-fight with another monster. So I moved downstream, keeping my fish in the water, and netted Eric's fish. He was elated, and then he saw that I had ANOTHER MONSTER already in my net!
1. Size 22 Trico, Size 24″ Trout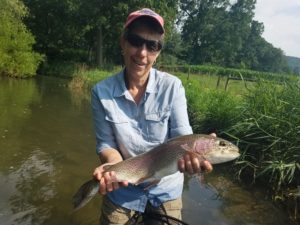 The summer-long trico hatch on Spruce Creek consistently yields some of the best Pennsylvania dry fly fishing opportunities. Sandy and I were lucky enough to be on the water during the first major trico hatch of the season, July 18, 2017. It was a magical morning where fish everywhere were rising to tricos, and they weren't picky like they are later in the season, after some education. It took about 6 casts before this monster decided to sip the imitation trico. After a valiant battle Sandy was able to sway the trout into the net.
---
Looking for some of the best Pennsylvania dry fly fishing? Available dates for 2018 Spruce Creek trips are now posted! Visit our webpage for Spruce Creek PA Guided Fly Fishing Trips.
179 Comments