Top 5 of 2016 – Biggest and Best Rainbow Trout on Streamers
Monster Trout on Big Streamers
With just a few short days left in 2016, Trout Haven is counting down some of the best fly fishing experiences of the year. This week we are taking a look at the biggest rainbow trout caught on streamers during 2016. You could say that 2016 was the year of the huge streamer – most of these monster rainbows were caught on big articulated streamer patterns ranging from 3 to 5 inches long.
5. Rich's Rainbow Trout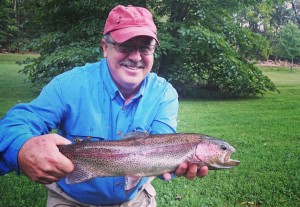 Rich landed this big female early in the morning on a mild September day at Spruce Creek. She was well-camouflaged in a small but turbulent riffle. The articulated streamer worked its magic through the current, and enticed a walloping strike from this beautiful 21″ rainbow. In 2016 this was one of our best Rainbow trout on streamers.
4. Dave's Run – Another Brute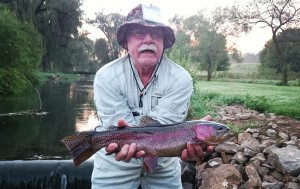 Dave is standing in his favorite pool on Spruce Creek, Dave's Run, which we decided to name after him because he caught so many big fish there. If you asked Dave, "where's the number one pool for catching the best rainbow trout on streamers?" he would say, "Dave's Run!" The 20″ rainbow pictured here was caught early on an August morning, before the Trico hatch started.
3. Tom's Big Rainbow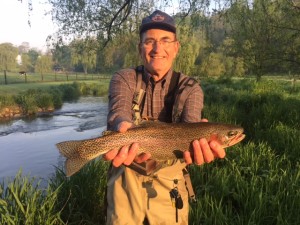 This fish was another morning predator, caught just after 6am in May. At 22″ long, this impressive fish gave Tom a great fight on his 8-weight streamer rod.
2. Gina's Mammoth Rainbow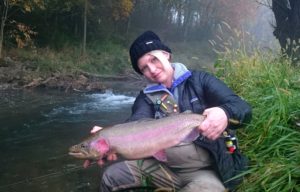 One of several hog trout that Gina landed in October on Spruce Creek, the rainbow pictured here crushed her articulated streamer and put up one hell of a fight! This fish was caught in "Big Bertha's Pool" and he just might be Big Bertha's (pictured below) boyfriend. Of all the male rainbows, this was the best rainbow trout on streamers in 2016.
1. Tanaka Your Socks Off!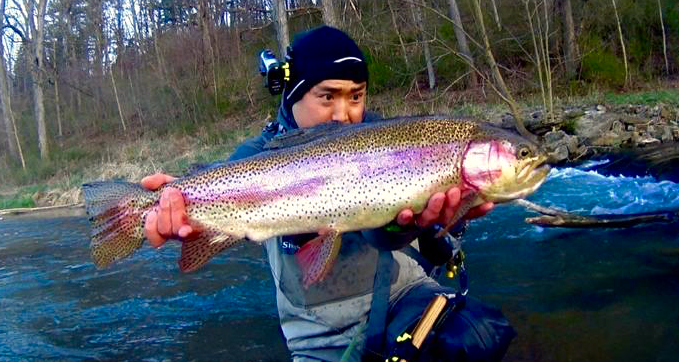 Ken Tanaka opened up Spruce Creek's 2016 season with a bang! Here he is pictured in April 2016 with Big Bertha, a huge 25″ female and queen of the pool in the background. Ken caught this beautiful healthy fish on his own articulated streamer pattern called "Tanaka Your Socks Off." A great fish, a great fly, and a great fisherman! This was the best rainbow trout on streamers in 2016!
In addition to superb dry fly fishing, Spruce Creek is a phenomenal streamer fishery if you know where and when to fish with streamers. Sign up for a 2017 trip to Spruce Creek with Trout Haven before we are all booked up. Visit our Spruce Creek PA Guided Fly Fishing Trip webpage for more details.
---
Get Instant Access to Your FREE Fly Rod Guide
Graphite? Fiberglass? Bamboo? What are the advantages of each? Get instant access to Trout Haven's free online Fly Rod Guide and learn how select the right fly rod for the right occasion. No downloading necessary, just click below...