Central PA Guided Fly Fishing Day Trip
Little J & Public Spruce Creek
The "Little J" and public accesses on Spruce Creek are premier fly-fishing spots in PA. With an abundance of fish, and high quality big fish, these streams can provide a fishing experience of a lifetime. With every hookup being a chance at a trophy fish, these spots can provide quality and quantity. Beginners and experienced anglers alike will find great fishing in both the Little J and Spruce Creek. Productive nymph and dry fly fishing awaits year-round!
Spring creek is arguably the best fly-fishing stream in PA. It boasts the name of being the most densely populated wild trout stream in all of PA. Paired with plentiful hatches, deep holes and riffles, Spring Creek is a great stream to learn fly fishing techniques or to get out for a relaxing day filled with lots of fish. Spring Creek provides productive fishing year-round with anything from streamers in the winter months, to Euro-nymphing and abundant dry flies in the spring and summer!
Penns Creek holds a large number of both wild and stocked fish, including the infamous golden trout. Access points are few and far between, so fishing this limestone stream is about as exclusive as it gets! Penns Creek can have great dry fly fishing throughout the summer with the countless hatches, but the use of nymphs and streamers can also be effective with tons of food availability in the stream ecosystem. This wilderness limestone stream can be tricky to fish, however this makes the catches even more rewarding!
Fishing creek boasts its "blue ribbon" title in PA, meaning that the area is known for holding trophy trout. Although very technical, Fishing Creek holds high numbers of fish with many exceeding 20 inches. The feeling of hooking one of these huge wild trout on a dry fly is unlike any other. Anglers can use all techniques of fly fishing Fishing Creek, but the many rapids and slow pools make for fantastic euro-nymphing and dry fly fishing. If you are looking for a challenge with the thrill of hooking into large, wild fish, look no further than a day on Fishing Creek!
Experience a day of non-stop action in a few different streams (tributaries of Pine Creek) such as Cedar Run, Slate Run and more! These streams are filled with native brook trout and are great fishing year-round. Some of these "brookies" have never been held by another person in their lifetime! While these fish don't often exceed 20", the quantity and uniqueness make for an unforgettable trip. Using dry-dropper techniques, it is not uncommon to catch two fish at once on each fly! With the occasional native trout reaching 18-20 inches, be prepared for the fight of your life as most of these trout have never been hooked before!
Central PA Stocked Streams
PA stocked trout streams often provide a fantastic day of fishing, especially for beginners. Anglers can catch these trout using every fly-fishing technique, and days filled with 50+ trout are not uncommon. While many fish range between the 13 and 16 inches, trout over 20 inches are common - and they put up a great fight! During the summer, these fish get a bit more wary, proving to add extra excitement when hooking into them! There are plenty of stocked trout streams within central PA, so finding fish won't be an issue on these trips!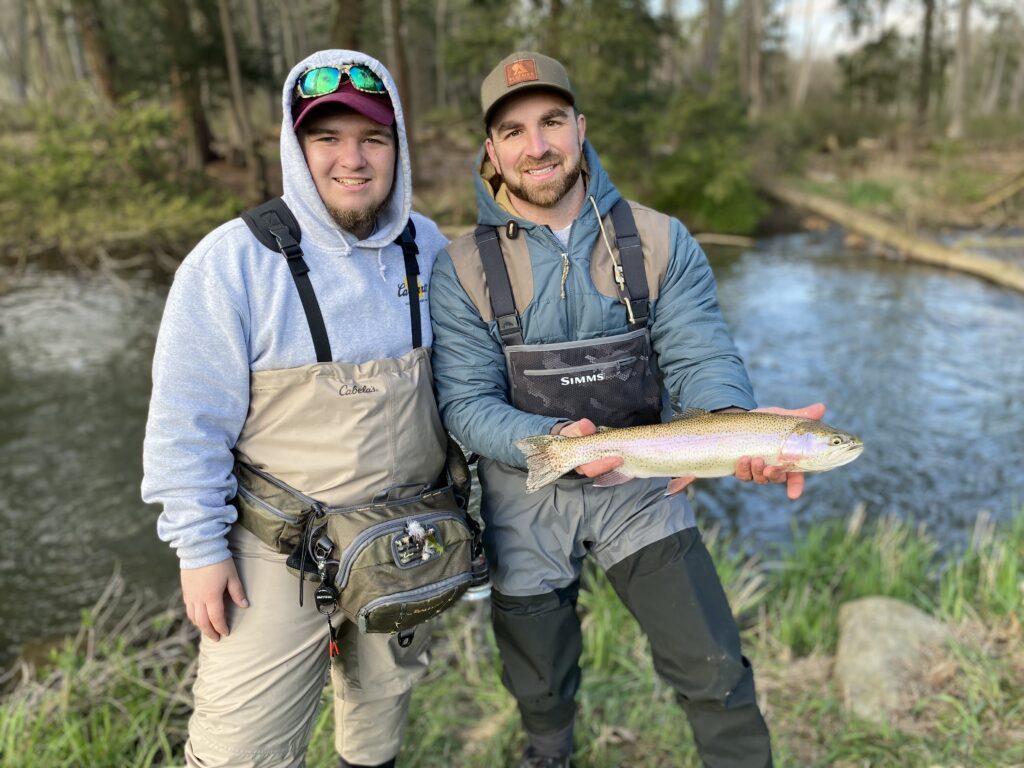 That's me on the left, guiding my friend to a beautiful rainbow trout. I love fly fishing and have enjoyed doing so for nearly all my life after being taught by my dad. Being born and raised in central PA, I have had the privilege to fish some of the nation's best waters and have recently enjoyed sharing that experience with others through guiding on Spruce Creek and other pristine PA streams. Fly fishing runs deeper than just catching lots of fish, but the overall experience is what will get you hooked! Join me at Spruce Creek or another central PA stream for some fly-fishing fun!
Rates: Full Day $425, Half Day $325