Fly Fishing Central PA – 2016 Fall Highlights
Monster Trout in the Keystone State – Fly Fishing Central PA
This season has blessed us with so many large and healthy trout – especially so this fall. The trees are not yet completely bare but we're getting closer every day. Before the snow falls, before most of us put away our fly rods for the season, let's take a moment to review five of the most gorgeous fish caught this fall in while fly fishing central PA at Trout Haven.
5. Chris's Big Rainbow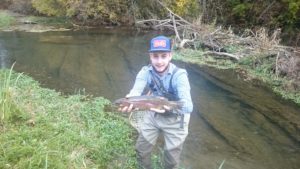 Chris worked really hard to hook this October rainbow – several casts, the perfect drift, and the perfect hook set. It's great to see the fly fishing "bug" spreading across all generations.
4. Bills's Big Brookie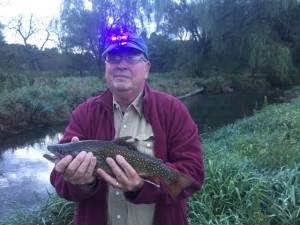 Bill had several "trifecta" sessions (catching browns, rainbows, and brookies) during his September trip to Spruce Creek. Pictured here is his big brookie, caught on a streamer fly at about 6:15am.
3. Rich's Hog 'Bow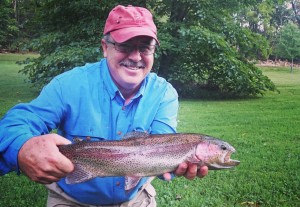 Rich had a very successful September morning using big streamers! This rainbow was caught in a narrow, inconspicuous, and fast moving pool.  This particular pool was incredibly productive all season long – the colorful brown trout pictured below was caught in the same exact pool about 1 month later. When fly fishing central PA, it's great to see these healthy and happy trout loving their home pools.
2. Ron's Monster Browns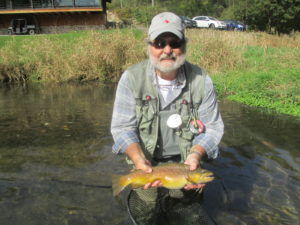 Okay, I cheated and posted three different fish here rather than one. Blame Ron for catching too many big fish. This October was really special on Spruce Creek and the fish were devouring streamer flies, egg flies, and small BWO nymphs. Look at the rich colors on that first brown trout – what a pretty fish!
1. Gina's Huge Brown Trout
This is one of two huge trout that Gina landed on streamers during an October trip to Spruce Creek. She seemed to have a knack for hooking behemoths – check out Trout Haven's October blog post, titled Big Streamers – Early Mornings on Spruce Creek, to see the monster rainbow that Gina hauled in.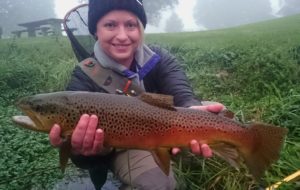 These photos are just a few examples of the great fall fishing we had on Spruce Creek. For the more die-hard anglers, November can also be a very productive month on the water if you are smart with your timing. If you're looking ahead to next season, visit our Spruce Creek page to sign up for a 2017 Spruce Creek PA guided fly fishing trip.
---
Get Instant Access to Your FREE Fly Rod Guide
Graphite? Fiberglass? Bamboo? What are the advantages of each? Get instant access to Trout Haven's free online Fly Rod Guide and learn how select the right fly rod for the right occasion. No downloading necessary, just click below...