Border Waters: West Branch of the Delaware River
Those who designed and constructed the Cannonsville Dam in Delaware County, NY had no idea that its dam releases would produce one of the best fly fishing destinations in the US. The West Branch not only has the cold and constant water temperatures that are the hallmark of tailwater fisheries, it also has healthy streambeds that support an abundance of insects and wild trout, much like Spruce Creek does.
In its final 6 miles, before joining the East Branch, the West Branch serves as the boundary between the states of New York and Pennsylvania. This stretch of water is open to catch and release fishing all year, a welcome exception to New York's "opening day" on April 1st.
The water here is big, wide, and full of trout! Early spring is a great time to fish with streamers.  Trout are often more willing to strike when the prize is large and packed with protein (baitfish, sculpins, etc.). Big streamers or double-streamer rigs will attract these hungry trout.

This 18″ beauty took the larger streamer in my double-streamer rig. The double rig creates the charade of a bigger baitfish chasing a smaller one.  This scene seems to persuade trout to prey on the predator.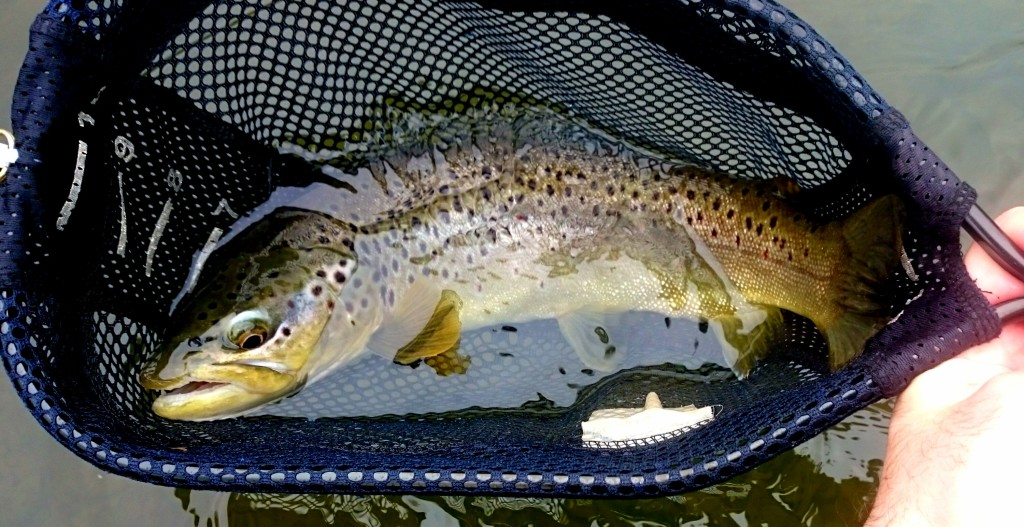 If I was forced to fish only the West Branch of the Delaware and Spruce Creek for the rest of my life, I would have no complaints. Visit Trout Haven's Spruce Creek webpage to see our available dates for the 2016 season.