Part One: The Leggy Stonefly 
The doyens of winter fly fishing often say that tiny midge patterns are the rule of thumb.  Yes, they work; but let's acknowledge that many of us have difficulty using size 24 flies.  They are hard enough to see, and more difficult to tie on.  Here's a leggy stonefly pattern that truly works well year-round, even in the depths of winter: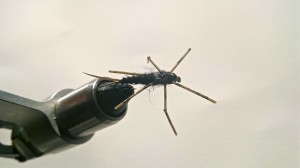 Materials:
Hook: Size 10 or 12, 2x long nymph hook
Bead: Black brass bead size 1/8″
Thread: Black
Tail: Black biots
Body: and Abdomen: Black dubbing
Rib: Black Silicone legs with blue sparkle (from Orvis)
Wing Case: Tan or Clear thin skin
Legs: Tan Silicone legs (also from Orvis)
The silicone legs wiggle exuberantly in the water column, attracting hungry trout.
Add plenty of weighted wire wraps to help get this nymph down quickly, and to build a realistic tapper on the body.  Next, tie in the black silicone leg for ribbing, and then begin wrapping the black dubbing.
Wrap the black silicone ribbing and tie off at just a tad more than half-way up the hook shank. Next, tie in the two tan legs and the thin skin.  Make sure your thin skin piece is long enough to secure two wing cases.
Take a few turns of black dubbing before securing the first wing case. Once the wing case is tied, tie in a second pair of tan legs in the reverse direction of the first pair.  Put a half-hitch knot in the legs to give them a joint. This middle pair of legs is optional – this pattern will still catch fish with 4 legs rather than 6, but I like the six-legged version.
Wrap some more black dubbing before adding in the final pair of tan legs.  The final pair of legs should be a mirror image of the first pair of rearward-facing legs.  Fold over the thin skin and tie off the second wing case.  Finally, whip finish in front of the middle legs but over top of the front legs (this can be tricky, so you can avoid it by tying the four-legged version).
Here are the two completed versions of the Leggy Stonefly:
Trout Haven wants to see your favorite winter fly pattern!  "Like" us on Facebook and share your photo in the comments section of this post.
View Trout Haven's Spruce Creek page to find out more about world-class trout fishing in Pennsylvania!