Central Massachusetts Fly Fishing River
Part One: Swift River
The Swift River is the only true bottom-release river in the state of Massachusetts.  It draws its water from the bottom of the Quabbin Reservoir giving the Swift cold clean water year-round.  Most of the fish in this river are rainbow trout stocked annually by the state.  There are some browns and reproducing brookies that make their way into the water system, but the Swift lacks the alkaline nutrient-rich water typical of Pennsylvania limestone springs.
Although the hatches on the Swift are less prolific than the typical PA hatches, there is a thriving subsurface midge ecosystem on the Swift.  Long-time Swift anglers have passed along their knowledge to the rest of us – success on the Swift can be achieved with tiny (size 18 and smaller) nymphs such as the WD-nymph.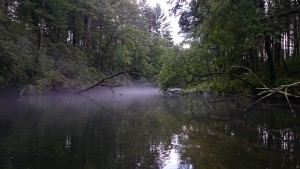 You'll notice that the Swift River is not swift at all… The water is very clear, sluggish, and requires long leaders with fine tippets (6x is usually fine).  Check out our gallery for more pictures, and click here find out more about Spruce Creek!