Western Montana Fly Fishing Highlights Trout Haven June 2021
Western Montana Fly Fishing Highlights June 2021
There's something special about western Montana. No – there are many special things that keep us coming back, year after year. The big sky, the wide open water, the wild trout, the spontaneous bear encounters, they all deepen the allure of this majestic landscape. Here is just a taste – our western Montana fly fishing highlights June 2021.
1. Big Boss Brown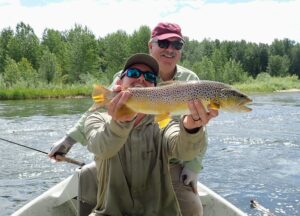 After landing three fish in this run, Rich hooked into this beauty. Sometimes you have to clear the path, get the small fish out of the way, before the big ones come out to play. Ricky is proudly holding up Rich's fish for a quick picture, before releasing it back into the cold waters of the Bitterroot.
2. Striking Gold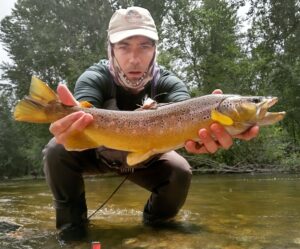 There are many prolific hatches out West, including the Golden Stonefly hatch. The Golden Stone makes its way to the banks of the stream, where it crawls onto land and emerges into its full adult form. This tends to pull the big trout tight to the banks, where their food is. This massive brown was under a log, right on the bank, and absolutely exploded onto a golden stonefly pattern. While taking him out of the net, I somehow accidentally stuck the barbless fly into his back.
3. Feisty Rainbows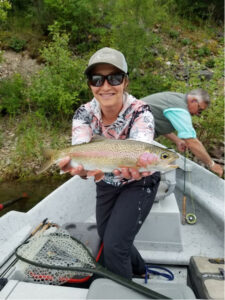 This fish jumped a total of 7 times before coming to the net! KynsLee is holding up Jim's fat rainbow, caught on a beadhead nymph just a few feet from the stream's edge. All of the fish pictured here, in our western Montana fly fishing highlights June 2021, we caught on dry-dropper rigs or on single dry fly rigs. Another reason I love Montana…
4. Green Drakes Too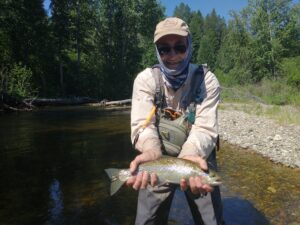 If the Golden Stonefly hatch doesn't suit you, you can wait a few minutes and find fish targeting the green drakes. This big rainbow was sitting at the tail of the pool, sipping green drakes regularly.
5. Everyone Loves Golden Stoneflies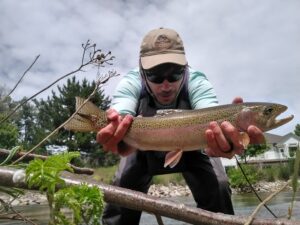 This rainbow made sure that it wasn't just the browns enjoying the adult stoneflies. This fish tucked into a back-eddy, right up against the bank of the stream. The cross-currents were so complex that it required a high-stick or "dapping" dry fly presentation. With the right drift, there was no stopping this fish from crushing the fly.
---
Thank you for reading our Western Montana Fly Fishing Highlights Trout Haven June 2021. If you'd like to inquire about our 2022 dates in Montana, visit our webpage for Missoula MT Guided Fly Fishing Trips
198 Comments