A Banner Trip: Spruce Creek PA Fly Fishing Highlights May 2021
Spruce Creek PA Fly Fishing May 2021
One question I'm often asked is, "How good is the fishing at Spruce Creek?" The short answer is, it is exceptional. Obviously there are many factors layered into that question, like the water conditions, weather, individual skill, the right equipment, etc. If some of these factors align, you can experience the best fly fishing that Pennsylvania has to offer.
A Banner Trip
This post will highlight one man's two-day trip to Trout Haven at Spruce Creek, and all of the incredible fish that he caught. These Spruce Creek PA fly fishing May 2021 highlights will blow you away, and this is just a small sample of all the fish we caught last week. We'll start with the beautiful wild brown trout below, caught in a fast riffle on a dry-dropper rig: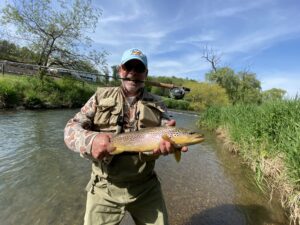 This brown immediately flew into the air on hookup, and then raced downstream as I chased it. It nearly broke off three times as it swam for cover under boulders and logs. The tippet held and the fight continued back upstream where I was able to scoop him up. After a hard-fought battle we had a to snap a quick picture.
So Many Lunkers!
Wow! And these are just fish that were 20″ or bigger! We also landed several in the 12″ – 19″ range, including some beautiful brook trout. Some of these incredible fish took the dry fly on our dry-dropper rigs, a truly awesome experience.  For this reason, I personally love fishing with a dry-dropper rig. Nothing beats the slow-motion rise of an unexpected beast.
Two Days
All of these fish were caught by one man on one 48-hour trip. Contact us today to book The Voyager Package 48-hour trip with Trout Haven, or you can visit our webpage for Spruce Creek PA Guided Fly Fishing Trips.
191 Comments