Valley Creek PA Fly Fishing
Valley Creek PA Fly Fishing: Trout on the Rise
There are shades of pride and affection that converge when an angler speaks of his or her home-water. This is a place he knows. A place where his experiences run deep and his memories, long. Valley Creek PA fly fishing is like no other.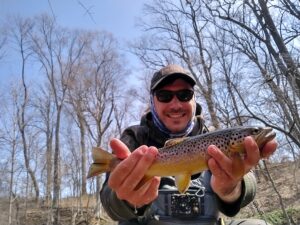 My home-water is wrapped in American history, filled with wild wary trout, and has become the center of so much outdoor recreation & escape for so many lucky locals.
Trout on the Rise
Valley Creek PA fly fishing is defined by the picky trout that come to the surface for dry flies almost every day of the year. Catching them is another story. These oft-rising trout have recovered from so much man-made pollution over the last several decades. We need to do more to protect this special fishery.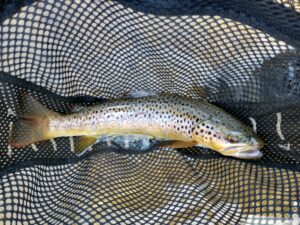 Hunting for Double Digits
One of the strengths of Valley Creek PA fly fishing is the high population density of brown trout. Valley Creek is a Class A wild trout stream according to the Pennsylvania Fish and Boat Commission. Most of these wild brown trout are less than 10″ long, but there are definitely larger ones out there. Pictured above are a 13″ and a 15″ brown trout, both fish took small BWO's on the surface yesterday. They required 7x, several attempts, and absolutely perfect dead-drifts. I know because I did these things incorrectly many times yesterday.
Honing your skills
"If you can catch a fish on Valley Creek, you can catch one anywhere." I've heard this from several "regulars" who proudly call Valley Creek their home-water. I must agree. Valley Creek PA fly fishing is some of the most challenging I have experienced, but every code can be cracked. If you are interested in learning how to crack this code, join us for a day trip on Valley Creek!
Request Booking
---
208 Comments