Late Winter PA Fly Fishing
Late Winter PA Fly Fishing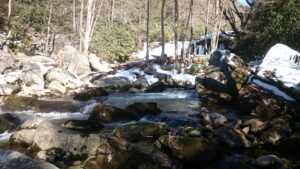 "You don't know until you go." It's become my mantra with regard to late winter PA fly fishing. It was also the final thought that I had before hopping over to one of my favorite local streams this week. All the February snow is finally melting away, causing many area streams to become bloated and turbid.
Generally, during these kinds of conditions I like to head upstream in search of the headwaters. If any water has a chance of being clearer and more "fishable," it is the headwaters. I arrived at the tributary, which was slightly stained but in good shape compared to the main stem.
Hoping for a Rise
I sanguinely tied on a dry-dropper rig, hoping to induce a crushing topwater take. Unless you're present for a midge hatch or early BWO's, dry fly action is not typical of late winter PA fly fishing. After several casts, I was rewarded by the BWO nymph dropper – a healthy 8″ brown trout.  It was the only bite in what appeared to be the perfect spot for many fish. I was persistent though, and after a long stretch of no action, I decided to change tactics.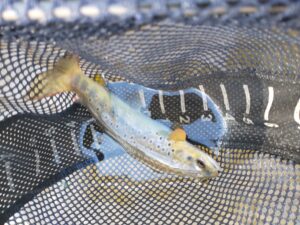 Searching for the "King"
Although I was far upstream and not expecting to catch any trophies, I thought I should try throwing a small streamer. With the water being stained, perhaps I could find the king of the pool with a wooly bugger.
Immediately I saw a larger fish swipe at the bugger, so I knew I was on to something. A few more casts later, a different retrieve, and SLAM!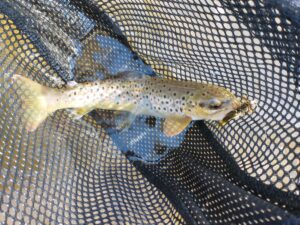 To my surprise, this was not the only fish in the pool that was willing to take an olive wooly bugger. A few casts later and the "queen" came out to play.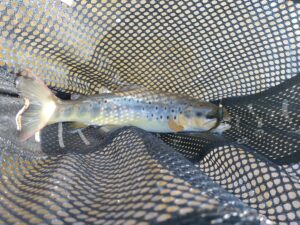 For the size of this small tributary, I was delighted to see these two wooly bugger eaters. I never expect to catch much on my late winter PA fly fishing adventures, but hey, you don't know until you go.
---
Looking to try a new fishing spot in eastern PA? Book a day trip with Trout Haven! For more details visit our webpage for Pennsylvania Guided Fly Fishing Day Trips.