Western Montana Fall Fly Fishing 2020
Western Montana Fall Fly Fishing 2020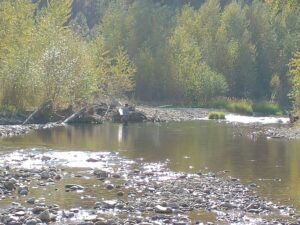 The cycle of seasons captivates me every year. Three months ago we stood in the same spot, and yet so much has changed. Riffles that were once productive are now a trickle, and impassible rapids are now productive. Western Montana Fall fly fishing is the name of the game, and summer is long gone.
Hoppers All Day
Owing to warm and dry afternoons of an expired summer, grasshoppers are an essential fly for Western Montana fall fly fishing. Throw a size 14 chubby Chernobyl in any Western Montana waterway, and you will likely find willing fish. We landed the cutthroat trout above from the small creek pictured at the top of the page. This is the same creek that flows behind the cabin on Trout Haven's Missoula MT guided fly fishing trip. The large rainbow trout took the same hopper pattern on the Bitterroot river, about 6 minutes away from our cabin.
Tricos & the "PhD Trout"
A good friend of mine refers to the most challenging fish as "PhD Trout." These are the pickiest of fish who will refuse the slightest bit of drag, thick tippet, a substandard fly pattern, etc. Like grasshoppers, trico mayflies are an essential part of Western Montana fall fly fishing. We often us long leaders with 5x, 6x, and even 7x in order to present this tiny fly to wary fish. After a very brief adult life, millions of these tricos die in the air and fall onto the surface of the stream. The dead swarms collect in the large back-eddies of the Bitterroot River. The trout follow their food accordingly.
Western Montana Fall Fly Fishing
The trip wouldn't be complete without a spectacular sunrise. On our last day the sky opened up and gave us an unforgettable greeting.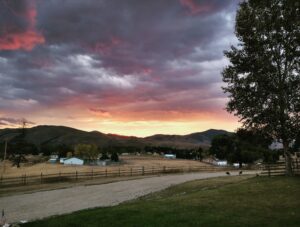 ---
Join us in 2021 for an unforgettable trip to Western Montana! Visit our webpage for Missoula MT Guided Fly Fishing Trips for more information.