Montana Summer Fly Fishing 2020
Montana Summer Fly Fishing 2020
Escape – there comes a time when we must heed that notion. No matter the state of things around us, we are drawn to the river. I am grateful to have escaped to western Montana for 9 days in mid July, just as the big fish began to move into colder tributaries. I enjoy Montana summer fly fishing in July because you can find the best of everything. You'll find hatches of stoneflies, green drakes, various mayflies, caddis, yellow sallies, and the start of terrestrial season. You'll find big fish in the big rivers, and you'll find big fish moving into smaller tributaries. It's an open challenge, it's the wild west.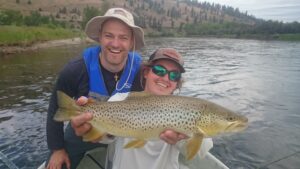 Finding "Sasquatch"
Sometimes you'll a find a fish that defies explanation. You might call it a "unicorn" or "Sasquatch," implying its improbable existence. I found such a fish swimming in a small tributary to the Bitterroot, on July 18. After thoroughly working my way upstream, I was delighted to find dozens of fish willing to take a hopper pattern. Some fish measured close to 15″ long!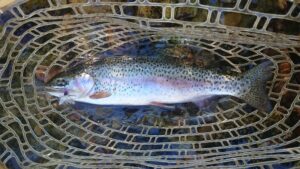 But it was only after things wound down, and I headed back downstream, that I spotted an improbable shadow. There he was, finning high in the current, a trout that easily exceeded 20″ long. I was not in a great position, but I thought "Eh, what the heck." So I casted my hopper-dropper setup about 10 feet above the giant, I saw him move out of position and slightly up, but the hopper didn't move.
"Set the hook anyway," I thought, and he was on! Immediately I felt his powerful and deliberate head shakes. He was in control, and I was along for the ride. He shot downstream, and I had no hope of chasing him. So, I kept my rod bent upstream and low to the current. I convinced him to slowly swim upstream, until he was close enough. I pulled his head up and jumped closer to net him. Got him!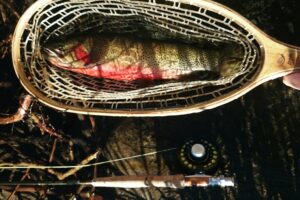 This is by far the most colorful and biggest cutthroat trout I have ever seen. Sasquatch is real! I wasn't able to get a great picture of him. But for reference, below is a picture of another beautiful cutthroat. I caught the one below on a different stream nearby, and it was about 17-18″ long. The cutthroat above was easily 4″ longer, and fatter too. These are the fruits of Montana Summer fly fishing!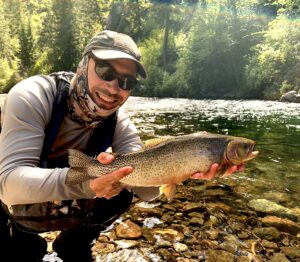 Resting your Secret Spots
I was in awe after catching that huge cutthroat. The fact that he exists amazes me. I wanted to give the stream a few days to rest, and try other places before returning. So I stopped by the Clark Fork to hunt for big Rainbow Trout. Perhaps my favorite aspect of Montana Summer fly fishing is casting large hoppers in big water. These predatory rainbow trout are opportunists, they can't refuse a large meal.
I also stopped by one of my favorite tributaries for some big cutthroat trout.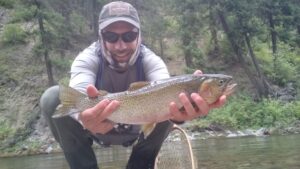 Returning for Sasquatch
I thought that three days of rest would be perfect. So I returned to the same stream where I caught Mr. Sasquatch, hoping to catch a glimpse of him one more time. Something was different today. More fish were coming up for the hopper, so I clipped off the nymph. I also noticed more brown trout in the stream today. The browns were mostly 8 – 15 inches long. You have to be mindful during Montana Summer fly fishing, I had a feeling that the browns recently migrated in from downstream.
I continued moving upstream, working my way to where the Sasquatch lives. I couldn't pass up casting to all the dead trees in the stream, despite the risk of losing flies. One tree in particular looked very fishy. My hopper made a good splash and I mended immediately. EXPLOSION! Let the rumble begin! I barely had time to think as this massive brown trout thrashed his way up and down the pool, left and right, towards me, away, upstream, and then fired downstream. There was so much structure around that I had to MOVE, I had to make sure my line wouldn't snap on a stick or log. Thankfully the 3x tippet allowed me reel with authority once the fish calmed down just a little.
Sasquatches Everywhere
I couldn't believe it! Here I was in search of the giant cutthroat from 3 days ago, and instead I find a HUGE brown! I release him and I think, well that pool is done. Let's try one more cast just for – HOLY MOLY!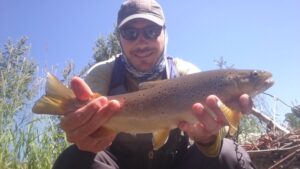 Not as big as the first but in the same spot! This was starting to be ridiculous – one of those banner days that I will never forget. Okay – now the pool was finished. Yes I tried a few more casts to no avail, so I continued upstream taking more small trout on a hopper. Eventual I came to the holy place, the land of Sasquatch.
A few fish came up for the hopper initially, but then things slowed down. I couldn't believe that nothing big was coming up after what I had just seen. I noticed a ton of dried up stonefly shucks on the edge of the stream. So I tied a dropper onto my hopper, the Stonefly made by Rio. It took about 3 casts before something massive grabbed my fly.
Another Sasquatch! Three of the biggest fish I caught all week live within the same 100 yard stretch of stream. I couldn't believe it!
Ending on a High Note
I decided to stop fishing soon after that last giant brown. How could I top this special day? I had found my secret spot, I was happy. I had found my Escape.
---
Looking for your Escape? Join us in Montana in 2021. Visit our webpage for Missoula MT Guided Fly Fishing Trips or call us at 607-643-1415.