Central PA Summer Fly Fishing – A Weekend at the Manor
Central PA Summer Fly Fishing – A Weekend at the Mansion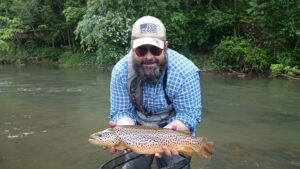 Wow – I'm almost speechless! What an outstanding weekend I had guiding Andy at Trout Haven's Fairbrook Mansion section of Spruce Creek. Central PA summer fly fishing requires a certain amount of versatility. You never know what the weather and resulting conditions will be. Luckily, Andy and I hit things perfectly. We saw just enough turbidity in the water to experience the best that Spruce Creek has to offer… Voracious streamer attacks… technical and rewarding nymph fishing… and productive caddis hatches with terrestrial action in between.
Day One – Streamers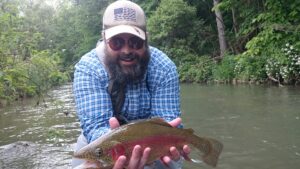 Thunderstorm coming? Get your streamers ready. It wouldn't be central PA summer fly fishing without isolated T-storms. A recent storm pushed the water clarity towards murky. So, we decided to start with streamers. That really paid off! When fishing streamers, it's important to keep moving. Fish only about 4 or 5 casts to each likely holding spot before moving your feet. The fish will almost always attack right away or not at all.
Day Two – Dry Flies, Nymphs, and Streamers
Almost as quickly as the water muddies, it clears up! This is why versatility is important for central PA summer fly fishing. We decided to seize the opportunity and fish during the little black caddis hatch. Several smaller fish eagerly grabbed our imitation. The larger fish seemed to want something else. When you can't figure out what they are rising to, try a black ant! Terrestrials are at the top of the list for central PA summer fly fishing patterns.
Day Three – Let's get some streamer hogs!
With the trip coming to an end, we decided to throw streamers one last time. Our goal was to target the bigger fish and see if they would come out to play. They did! All of the fish pictured in this post were caught by one person, Andy, during one trip. His 48-hour stay was filled with incredible fly fishing at Trout Haven's Fairbrook Mansion location. Visit our Fairbrook Mansion webpage to inquire about booking your unforgettable fly fishing trip!