PA May Fly Fishing
PA May fly fishing is here and while pandemics are unusual, plenty of rain is not. We've been lucky enough to have intervals of great PA May fly fishing between the washings. The Governor continues to allow fishing guides to operate with safe distancing and masks, and we are taking all of the necessary precautions.
An Auspicious Sign
My friend, Gregg, had an awesome visit to Trout Haven earlier this month, and he was able to catch some remarkable fish. Gregg was inspired to write about his experience, and so he and I have decided to share his story here on the Trout Haven blog:
Rule of Threes
"Made my third trip to Trout Haven, although a bit earlier in the season this year than in the past. I arrived on May 3rd for three days of fishing.
Spruce Creek was a bit high and slightly off-color making streamers a good choice early on.  Monday, late afternoon I struck an oversize brown with a 3+ inch articulated streamer hard enough to break 3X floro tippet.  Must have felt like getting blindsided in a bar fight because we saw a BIG yellow slab hang sideways on the surface for a moment before sliding back to its feeding station.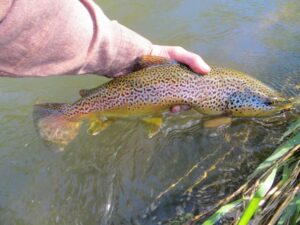 The third afternoon with a few caddis popping off and some blue quills on the surface I drifted a fly into the scene of the previous day's festivities.  A spotted submarine slowly surfaced and tipped up in the film considering a size 14 olive caddis. Those of you familiar with this phenomenon know the adrenaline spike it produces causing the tremble that runs down the line and ends in a refusal.  So, dust the fly, check the knots and leader and try again in a little while.
An old English proverb claims THIRD TIME'S a CHARM.   Same,  Slow,  Rise, deliberate eat and- take a beat-  set, 'cause it is on.  My friend Andrew and I had to sit down for something more than three minutes after getting it in the net.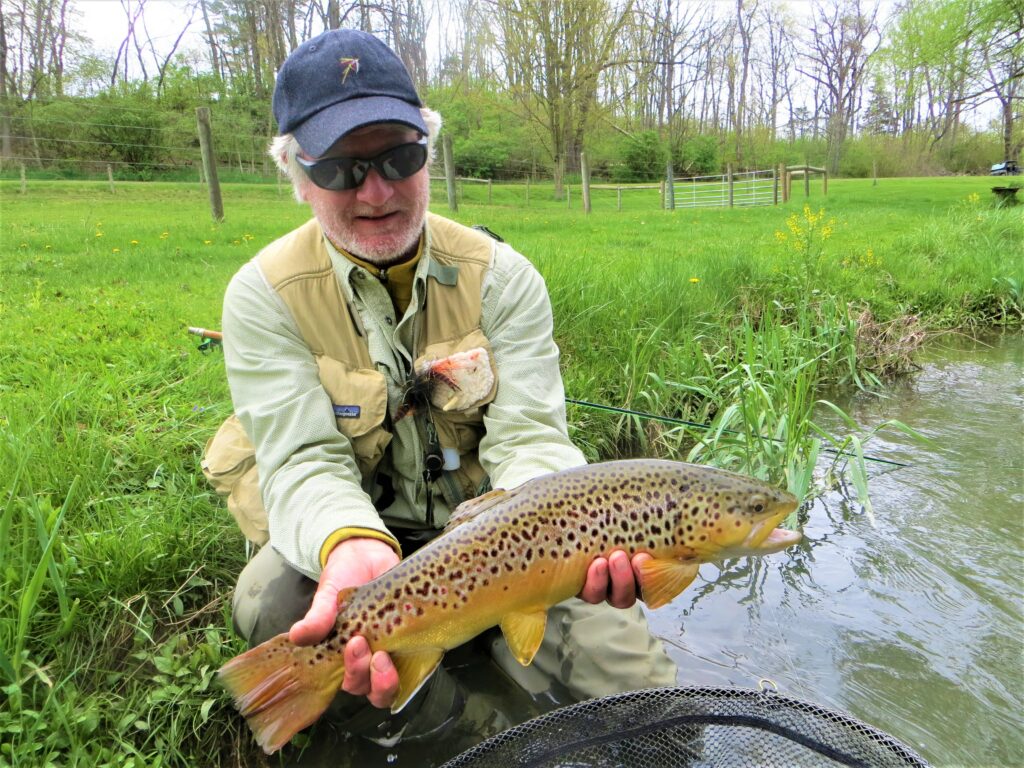 To finish the tale, landed three 20+ inch browns in three days fishing.   Also, the Three Fish Eastern Slam in a morning with a one man double, but don't ask."