Secret Creek PA Fly Fishing
Secret Creek PA Fly Fishing
The waters are warming up to spring temperatures, "early grey" hatches are in full swing, and the fish are rising! If you enjoy dry fly fishing above all else, then you will love fishing Secret Creek with Trout Haven. This small stream is a prodigious bug factory, and it is loaded with wild brown trout and native brook trout. Secret Creek PA fly fishing is on my short list of favorite streams for good reason.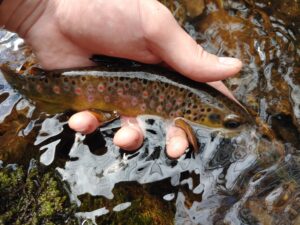 So many hatches!
On my most recent outing to Secret Creek, I witnessed 4 hatches simultaneously: BWO's, Blue Quills, Quill Gordons, and sedge caddis. The thing that I love about Secret Creek PA fly fishing is that sometimes the fish will only target one of the current hatches. I always enjoy trying to decode and detect what is on the trout's menu. It's not always the same for each pool and each fish.
Sleight of fin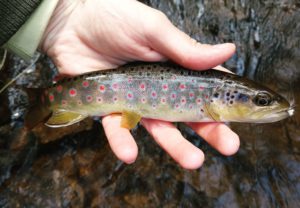 I spotted this fish, pictured above, well before I caught him. Leading up to this point, I had landed several fish on a generic caddis pattern. So I crept into position and tried several casts to this fish. He looked at the fly once, but never grabbed it. Then, almost as if to spite me, I see the fish rise to a natural bug. "I guess he wants something tastier than a caddis," I thought. I tied on a BWO, size 18. Again, the fish looked but did not bite. "It must be the Quill Gordon," I thought. I tied on the fly, made one cast, and the fish instantly grabbed it!
Fishing Guides Permitted to Operate
Thanks to a recent revision by Governor Wolf, PA fishing guides will be allowed to take out clients beginning on May 1st. Trout Haven will be taking great precaution with regard to wearing masks, hand sanitation, and social distancing, and we will be accepting bookings to Secret Creek beginning May 6th. Please visit our webpage for Secret Creek PA Fly Fishing for detailed information.