Trout Haven Gift Certificate 2020
Trout Haven Gift Certificates 2020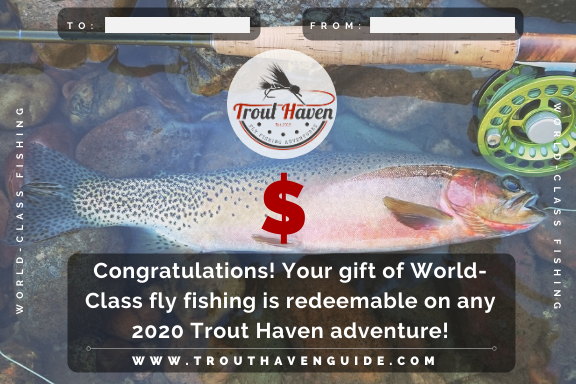 We've been getting requests for Trout Haven Gift Certificates – Yes, we customize them and email you a printable copy with instantaneous delivery! You can purchase a gift of any value and it is applicable to any 2020 Trout Haven trip. We have some exciting destinations this year, including trips to Missoula, MT!
Just in time for the Holidays – Trout Haven Gift Certificates!
Get your last minute shopping finished and give someone special a memorable fly fishing adventure!
Email us at andrew@trouthavenguide.com or call us at 607-643-1415 to purchase your gift certificate. We accept all major credit cards through our Paypal portal.
---
Visit our webpage for Spruce Creek PA Guided Fly Fishing Trips to learn more about Trout Haven trips to Spruce Creek.