PA September Fly Fishing Highlights
PA September Fly Fishing Highlights
With this very pleasant extended summer also comes low-water conditions on some of our favorite freestone streams. We are giving the fish a break today and hoping for rain to come soon. Instead, we are looking back on the best PA September Fly Fishing Highlights from earlier this month.
Fish Grasshoppers!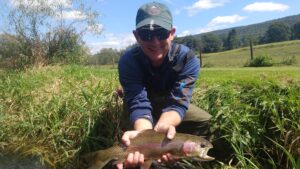 Rich caught the beautiful rainbow pictured above with a size 10 grasshopper pattern. Trout are opportunistic feeders, and grasshoppers provide an irresistible dose of protein. Don't be afraid to tie on a hopper pattern even when there are no fish visibly rising. In fact, the majority of today's PA September fly fishing highlights feature trout that took a grasshopper pattern.
"A little closer to the bank…"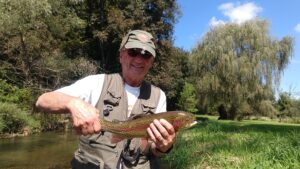 Another hopper-eater, this rainbow was hiding beneath an undercut bank only 15 – 20 feet from our position. Larry had several good drifts near the bank, but this fish would not bite until he had one drift within TWO INCHES of the bank. Yes, you might hook twigs and perhaps lose a fly or two, but that's where the fish are!
October Caddis Pupa

When fishing subsurface this time of year, I always have good luck with October Caddis pupa patterns. These flies are quite large (size 10 or 12) and I prefer to tie them with a very heavy tungsten bead. Go for an amber/orange tone on the body of the fly, or a two-tone with the underside being olive.
"That's a Special Fish!"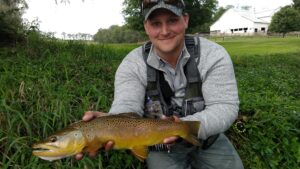 Jared caught this beautiful Pennsylvania wild brown trout on a … wait for it … Hopper pattern! This trout was hiding right up against the bank, lurking and waiting for easy prey. This is a very special fish, spectacular colors, born and grown in the stream, extremely wily, rarely caught, and to top everything off this fish came up for a dry fly! This is why Spruce Creek is such a special place! This fish definitely caps our best PA September fly fishing highlights.
---
Here's your last chance to go after trophy trout on Spruce Creek in October! Fill out the form below to join us on October 22 – 24:

170 Comments