May PA Fly Fishing Highlights
May PA Fly Fishing Highlights
It's hard to believe that May is nearly over. We've had an interesting month with plenty of high water and some beautiful fish! Today we are counting down our top 5 May PA fly fishing highlights:
5. First Fish Ever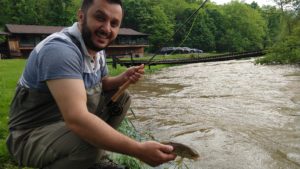 Okan had never touched a fishing pole before, let alone a fly fishing rod. Despite the high water and difficult conditions, he remained stalwart. Fishing a San Juan worm along the flooded banks, Okan landed his first ever fish – a Pennsylvania wild brown trout!
4. Persistence Pays Off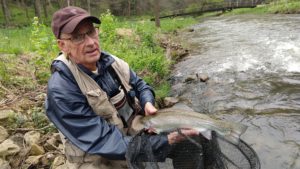 After a few missed fish, we were able to land this beauty of a rainbow on Fred's secret fly pattern. It was a size 18 fly and a 20″ fish! Definitely a memorable May PA fly fishing highlight.
3. Streamer Bite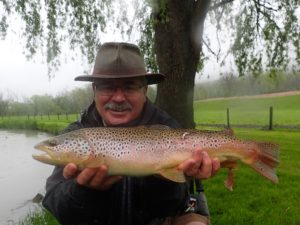 Rich landed the lunker brown above after a downpour the very last day of his visit. He had caught a few very nice rainbows, but was on the hunt for a big brown. This beast definitely qualifies!
2. Dry-Dropper Rigs
Steve landed several great fish during his time at Trout Haven. The rainbow pictured here took a size 14 prince nymph in the morning and the big brown came up for a size 12 caddis on the surface. Nice job, Steve – getting it done both on dries and on nymphs!
1. Targeting the Riffles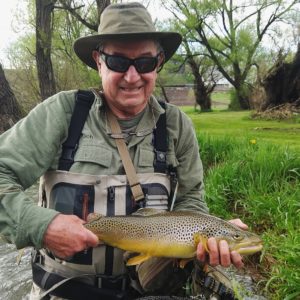 Rich was targeting a fast water riffle when this beast of a wild brown trout came out of nowhere. It nearly tore off downstream, but the 5x held strong and we were able to scoop him up for a quick picture. I love the vivid color of this wild trout, and so it is my number one May PA fly fishing highlight!
---
Don't miss out on your chance to fish Spruce Creek this season! We have a few openings in the fall, visit our webpage for Spruce Creek PA Guided Fly Fishing Trips for more info.