Hunting for Hidden Treasure: PA Spring Fly Fishing
Hunting for Hidden Treasure: PA Spring Fly Fishing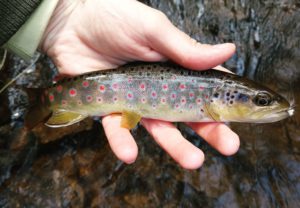 If you're like me, you enjoy scouring your maps looking for a promising "blue line" to explore & fish. It's thrilling to think that you might find a potential gem of which most people are unaware. I sought a PA spring fly fishing spot with no crowds and many fish. I thought I found such a stream about one month ago and decided to do some prospecting.
Some Days Are a Bust
After taking an ill-advised drive down a snow-covered dirt road, and hiking for about two miles, I gazed at my destination. Winter still lingered on the March ground with patches of snow and ice, a gorgeous and rugged scene. Unfortunately, the fishing part of day disappointed – a few bites and zero fish to the net. "I'll be back when things warm up," I said to myself.
Second Chance
Yesterday I returned to this stream hoping to find hungry fish. Coming to my senses, I found an alternate route to an upstream section, reducing the hike to about one mile. It was no easy hike down a steep slope and through thick brush, but I could hear the stream in the distance growing louder, calling me.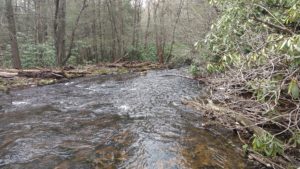 I emerged from the brush, immediately stepping into the biggest pool in sight. "I would have liked to fish where my feet are," I thought, but the thicket had other plans. Salvaging the riffle at the head of the pool, I did my best to sneak over to the opposite bank where the brush was sparser. After a winter of nymphing, I was eager to start this PA spring fly fishing excursion with a dry-dropper rig. A few casts in, I connected with a small trout. To my surprise, it was a brookie!
That was one of two native brookies on the day, and several wild brown trout. After thoroughly working the pool, I hiked downstream for about a mile until I reached a small clearing. Here I witnessed the first major hatch of Hendricksons this season.
PA Spring Fly Fishing – "Early Grays"
There were also BWO's, blue quills, another distinct Mayfly that I couldn't quite make out, and a few small caddis. This place is a bug factory! "I've got to tie on an Adams," I thought. Sometimes the classic patterns produce results and that was certainly the case yesterday! The Adams is a great imitation of most early mayflies, the so-called "early grays." Just about every single riffle, run, and pool produced several fish on the surface, all the way back to my entry point. Some days you lose, and some days you hit the motherlode.