Pennsylvania Winter Fly Fishing: Seizing Mild Days
Mild Days Deliver Excellent Pennsylvania Winter Fly fishing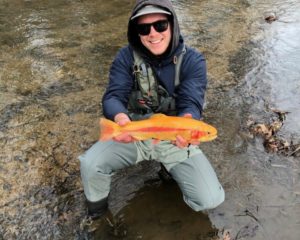 For the second consecutive year February temperatures pushed beyond 70 degrees Fahrenheit. Unseasonably mild days provide an irresistible opportunity to fish your favorite stream. Class A Wild Trout Streams are great places to go for Pennsylvania winter fly fishing. Although not a wild fish, we landed the palomino trout above on a Class A stretch of the Little Lehigh Creek.
Small Flies, Big Rewards
Generally speaking trout feed on smaller food items during the colder months. Especially on the limestone-influenced creeks, Pennsylvania winter fly fishing demands smaller flies. I have an array of size 24 nymphs – midges, hare's ear nymphs, and pheasant tails. They usually accompany a larger heavier dropper nymph. Tim Flagler's Tight Line Productions  Youtube channel has tying tutorials for hundreds of flies, including a simple midge pattern that I use frequently:

Lehigh Valley Streams
The Lehigh Valley has a good selection of limestone-influenced creeks that never freeze over. Little Lehigh Creek, Monocacy Creek, etc… These consistent waters are good targets for Pennsylvania winter fly fishing. They support healthy populations of feisty colorful wild brown trout, like the ones below:
Taking a Chance on Warmer Days
With two straight days of 70 degree temperatures, my friend and I were tempted to look beyond the Lehigh Valley's limestone creeks. We took a chance on heading to Brodhead creek and other Pocono-area streams. These streams do hold wild trout but snow melt impacts their flows heavily. I measured a peak water temperature of 48 degrees on Wednesday, not bad. We found high but manageable water levels. Unlike the limestone creeks, these larger freestone streams fish well with big stonefly patterns. Luckily, our gamble paid off:
---
Don't miss out! Spruce Creek dates are going fast – visit our Spruce Creek webpage to book your 2018 trip.