Late Season Caddis: PA Fly Fishing on Spruce Creek
Streamer Mornings & Caddis Afternoons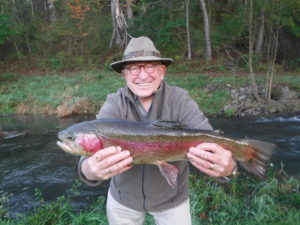 Big Bertha is back! This beautiful 27″ rainbow was one of many big trout that came to the net over 6 days on Spruce Creek. PA fly fishing in the late fall can produce monster trout as the bigger fish move upstream in preparation for spawning.
PA Fly Fishing at Dawn
Streamers are an effective way to target these bigger active fish. Just before dawn the nocturnal predatory fish will go after streamers. The low light conditions allow you to get closer to the fish without spooking them; you can stand right at the head of riffles and pools and fish with various downstream approaches.
Nymphing Success
With fewer hatches than springtime, late fall provides the perfect opportunity to fish with "trout candy." Sucker spawn, san juan worms, and egg patterns consistently produce fish during the fall months. Remember that many PA fly fishing waters support wild trout, and be careful to steer clear of any redds.
Caddis On Top & Subsurface
We saw a handful of thick caddis hatches during the warmer days of our trip. Don't neglect the pre-adult stages of the caddis lifecycle: emerger patterns dropped behind an elk-hair dry often produce more fish than the dry. If not many fish are rising, the green caddis pupa patterns fished deeper will do the trick.
Terrestrials Still Produce
To my surprise, we took several fish on black beetle patterns. I didn't see any beetles flying around, but the opportunistic trout couldn't refuse a well-placed imitation. If trout ignore the beetle, switch to a black ant wet fly before abandoning terrestrials. They are an important part of the trout's diet and should be in your PA fly fishing box.
---
Want to fish Spruce Creek? Visit our webpage for Spruce Creek PA guided fly fishing trips.