Tricos and Terrestrials: Summer Fly Fishing in Central PA
Dry Fly Highlights of Summer Fly Fishing in Central PA

After the big mayflies of Spring have come and gone, there is a second wave of excellent dry fly fishing. Fewer crowds and eagerly rising trout define the nature of summer fly fishing in central PA.
Tan Caddis & Tiny Mayflies
For the "match the hatch" anglers, summer offers the challenge of matching size 22 and 24 trico hatches. On Spruce Creek, the trico hatch starts in late July and lasts all summer. We have consistent morning hatches and spinner falls throughout August and most of September, some years into October.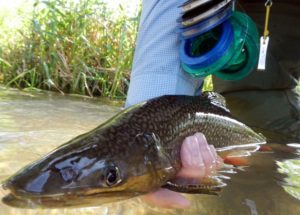 When rises are few and far between, I almost always defer to dry dropper rig on smaller creeks. My top fly is almost always a tan caddis because they do hatch sporadically, and the elk hair pattern floats very well. You never know when a hungry brown, like the one below, will decide to come up for your offering.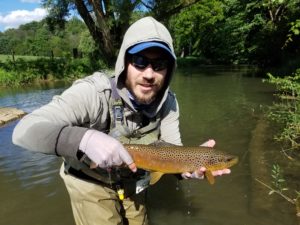 Terrestrial Treats
My personal favorite "hatch" of summer fly fishing in central PA is the Japanese beetle. There's nothing quite like the thrill of prospecting with a Japanese beetle pattern, or spotting a trout and trying your luck. It's amazing to see trout hiding in the most inconspicuous nooks and stream banks.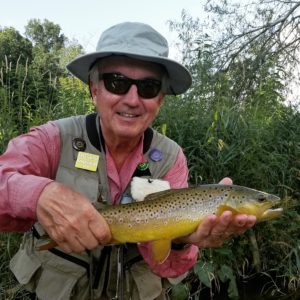 I've never tried to eat a Japanese beetle, but the trout seem to love them. The beetle must have a certain taste or maybe the trout consider it a rare treat. Trout will swim out their way, sometimes eight to ten feet, just to nab a fallen beetle. Make sure you have beetle patterns in your box if you plan to do some summer fly fishing in central PA.
Big Trout on Japanese Beetles
In case you need any more convincing to bring Japanese beetles with you when you do some summer fly fishing in central PA, here are some of the biggest takers on Spruce Creek this season:
---
For more info on Spruce Creek, visit our webpage for Spruce Creek PA Guided Fly Fishing trips.