Fly Fishing Lodges in Central Pennsylvania – What Makes a Great Lodge?
4 Things that Make a Great Fly Fishing Lodge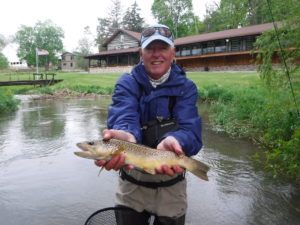 If you've done some internet searching then you know that there is certainly no shortage of fly fishing lodges in central Pennsylvania. Have no fear – Trout Haven is hear to help you know what to look for in a fly fishing lodge, and what makes a lodge truly great.
4. Proximity
Your fishing vacation time is precious – you shouldn't spend your time getting to and from the best water. Your ideal situation is to stay right on the banks of the stream – no driving, no boating, no time wasted, and no hassle transporting gear. If it's not clear where the lodge is, ask before you buy.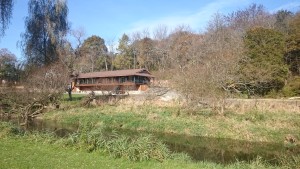 3. Inclusive with Meals
After a long week at work, the last thing you want to do is spend several hours at the grocery store deciding what you and your fishing buddies are going to eat this weekend. If you're looking for truly great fly fishing lodges in central Pennsylvania, narrow your search to lodges that include excellent meals.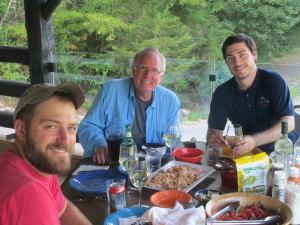 2. Comfortable Rooms
If you spend all day fishing, you're going to need a good bed and quality sleep before you wake up and repeat. Don't settle for a cramped lodge with dormitory bunk beds. Look for private rooms with big beds and private bathrooms with a revitalizing hot shower.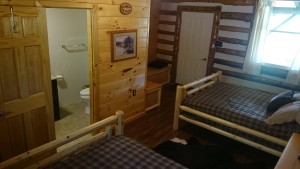 1. Key Fine Details
Sometimes it's the little details that make a lodge truly great – outdoor racks to hang your rods and waders, a rinsing station to hose off any mud on your boots and waders, a well-placed picnic table to assemble rods and tie tippet. The best fly fishing lodges in central Pennsylvania are built by people who fly fish too. They thought of little things that make a big difference.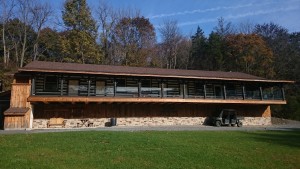 All pictures in this article are of Hemlock Lodge at Trout Haven. Visit our Spruce Creek PA webpage to learn more about our fly fishing packages.