PA Fly Fishing: 5 Biggest Trout from Spring 2017
5 Highlights of PA Fly Fishing this Spring
This spring has blessed us anglers with ample rain and normal air temperatures, and the big trout seem to have taken notice. We've seen some monster fish come to the net, especially on our guided fly fishing trips to Spruce Creek. Just last week we witnessed an astonishing green drake hatch that brought a huge native brook trout to the net. Below are some of Trout Haven's highlights from a productive spring of PA fly fishing.
5. Tom's Big Brown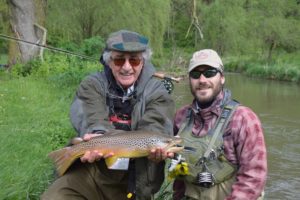 Tom worked hard for this trout! After several searching casts with his streamer, he hooked this bruiser of a brown trout about 6 inches away from the opposite bank. When streamer fishing, especially when it comes to PA fly fishing, don't be afraid to cast within inches of the bank to draw out the big browns that lurk inside of undercut banks.
4. Tony's Monster Rainbow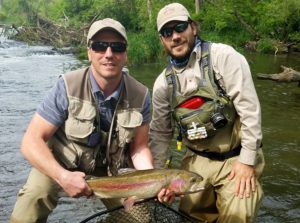 We all have those days on the stream when it seems that nothing is going quite right. Knots fail, lines break, and fish have a way of always spitting out the hook. Things were going in that direction all day until Tony and I decided to add one tiny split shot weight to his tippet, so that his size 18 hare's ear nymph would get down "right in front of their faces." Sometimes a tiny split shot is the only difference between a tough day and a trophy 25″ rainbow!
3. Bill's Bounty
In one day, Bill landed both a trophy brown and a trophy rainbow – very impressive! The brown took a small pheasant tail nymph while the rainbow came up at dusk during a frenzied evening hatch of sulphurs. Especially as spring warms into summer, dry fly fishing in PA orients around the evening hatch.
2. Knockin' them Socks Off
Ken Tanaka of Wish4Fish had another epic visit to Spruce Creek with Trout Haven last month. These two browns pictured here are only a few of the monster fish that he and his TYSO (Tanaka Your Socks Off) streamer brought to the net. You can watch the full video, and other awesome PA fly fishing videos, on the Wish4Fish Youtube Channel.
1. Alice's Monster Brown
It pays off to fish even when the water is high and muddy. Our Trout Haven Guide, Tom, was able to put Alice onto the biggest brown trout landed this year on Spruce Creek – a 26″ behemoth! Way to go, Alice!
---
We have only one trip date left this year on Spruce Creek – visit our Spruce Creek PA Guide Fly Fishing Trip webpage to book your spot!