PA Fly Fishing Spring 2017: First Trout of the Spring Season
The PA Fly Fishing Spring 2017 Season Begins…
In celebration of my 29th birthday, my dad and I took our first Spruce Creek spring 2017 PA fly fishing trip together. We were lucky enough to fish on the warmer days of this week, with the air temperatures approaching 60 degrees on Tuesday. In the spring, snow melt and other factors cause the waters to be higher, murkier, and colder. These are the perfect conditions for feisty fish that will hit streamers, nymphs, and the occasional BWO hatch.
We almost always see more brook trout in the early spring on Spruce Creek, usually because they move upstream in search of colder water as the season elapses. If you plan on doing some PA fly fishing in Spring 2017, and you want to catch a few trophy brook trout, then sign up for our May 4 – 7 Spruce Creek trip while there's still one room open.
Nymphing in the Spring
The higher and faster flows of spring can present a few challenges when fishing with nymphs. Your favorite pools might move more quickly and be deeper than you expected, making it difficult to get your nymphs down to the bottom. One way to cope with this issue is to try the "Euro Nymphing" techniques popularized in the last decade. Longer thinner leaders allow you to get your flies deeper, and the lack of an indicator only reduces your chance of drag.
Streamer Hogs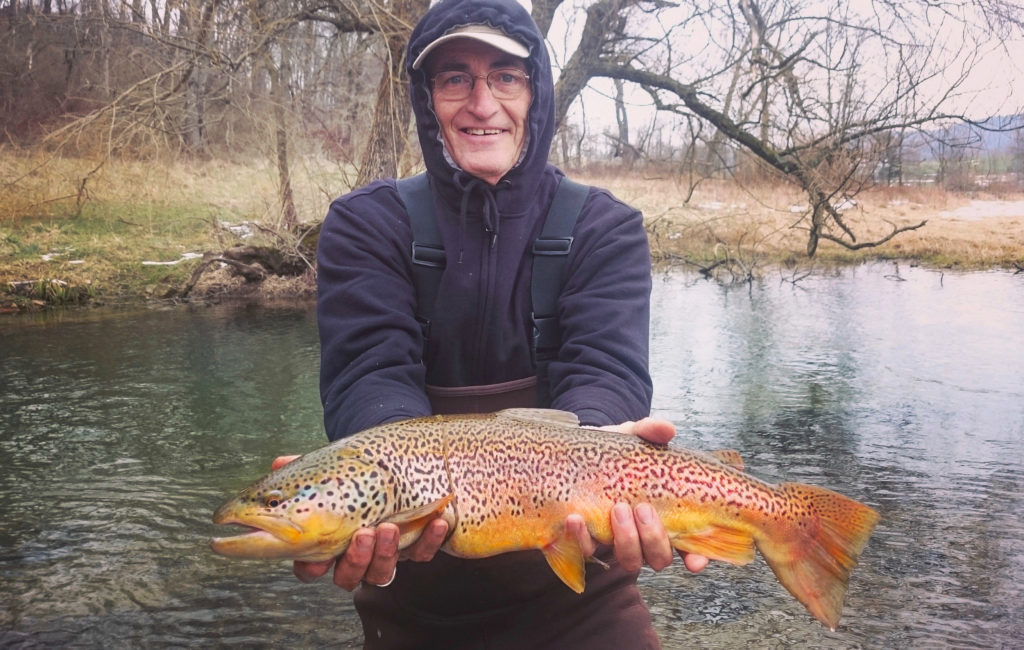 What a beautiful brown! The first Lunker Award for PA Fly Fishing Spring 2017 goes to Tom! He caught this hog while using a fantastic streamer pattern that he invented. We both noticed how hardy and feisty the trout were on this trip; the 45 degree water made even the smaller 16″ fish battle like they were 25″ long.
Here's your chance to join us for fantastic PA fly fishing in spring 2017… We have one opening on May 4 – 7 so click the following link to book your Spruce Creek PA guided fly fishing trip.
---
Sign Up to learn a deadly early spring nymph pattern
FREE Fly Tying Guide
Sign Up below for Trout Haven's Fly Tying Guide.