Early Risers – 3 Great Dry Fly Patterns for Late Winter Trout
Three Trout Haven Favorites
Today the calendar reads March 1st, bringing us one month closer to most anglers' favorite dry fly season. If the recent days of air temperatures pushing 70 degrees weren't enough to persuade you that winter is waning, then perhaps the turn of the calendar will.
We are in the month of transition, when many stocked waters are closed to fishing, and Class A waters aren't yet hosting the major hatch events of early spring. You might see the occasional black stonefly hatch and the BWO's could show up early this year, but the most reliable hatches right now are the midge hatches. Below are three of my favorite small dry flies, all of them are effective during winter midge hatches.
3. Elk Hair Midge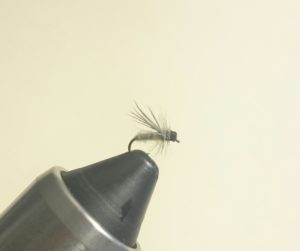 I prefer to tie this fly with elk hair that is dyed gray, and with a judicious pinch of gray or olive dubbing. It floats well and is more easily seen than the traditional griffith's gnat pattern. Use the elk hair sparingly when tying a size 24 fly – it doesn't take much to keep such a small fly buoyant.
2. Griffith's Gnat
This classic dry fly pattern is a go-to pattern for many anglers. It is believed to represent a cluster of midges rather than a single midge, allowing us to fish a bigger dry fly – like a size 18 – and still catch fish during a tiny midge hatch. It's a great idea to have several color and size variations in your box.
1. "MS2"
This fly was inspired by Rim Chung's RS2 pattern. The MS2 fly ditches the fibbet tails and adds a hackle collar. The small wing is made of New Zealand wool material, the same material used for making fur strike indicators. If the fish refuse your griffith's gnat, switch to the MS2 in size 24 or 26. If you have trouble seeing the fly, try trailing it behind a larger dry fly.
All three of these patterns are tried and true, Trout Haven approved, and proven to catch several wily wild browns in the limestone springs of PA.
---
We have a rare Spruce Creek opening on May 4 – 7 due to a cancellation. Don't miss your chance to experience some of the best fly fishing in the East, visit our Spruce Creek webpage to sign up for your trip.