Trout Haven Presentation at Lackawanna Valley Trout Unlimited
Join us on Wednesday, November 16th
Trout Haven is proud to be endorsed by the nation's largest cold-water conservation organization, Trout Unlimited. If you are in the Scranton, PA area on November 16th, join us at Lackawanna Valley Trout Unlimited for an exciting presentation on Spruce Creek – Fly Fishing Paradise.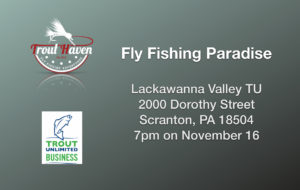 The meeting starts at 7pm and the address is 2000 Dorothy St., Scranton, PA.
For more information about Spruce Creek, visit our webpage for Spruce Creek PA Guided Fly Fishing Trips.