Fly Fishing Tips and Tricks II
Ingenious Innovations in Fly Fishing from Fly Fishing Innovators:
Part Two: The Strike Doctor
One of the most effective ways to scout new water is to fish with a dry-dropper rig.  The rig allows you to fish in two important feeding zones, doubling your chances of hooking up and covering more water in less time.
The dry-dropper rig, however, is not flawless.  The dropper has a fixed length; sure, you can shorten it by clipping and retying, but when it needs to be lengthened do you really want to clip everything and start from scratch?  Let's say the next pool is two feet deeper than the previous and it's getting dark outside.  You want to spend the last few minutes of daylight fishing, not fumbling with knots.  That's when The Strike Doctor saves the day: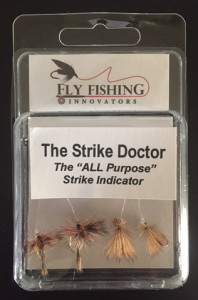 Adjustable:
The Strike Doctor is a buoyant dry fly with a unique attachment system.  The Strike Doctor is easily adjustable with it's loop-to-loop connection, much like an adjustable fur indicator.
Catch the Indicator-Biters:
Before I started using The Strike Doctor, I would get so frustrated when fish came up to bite my fur indicator.  It was like they were taunting me.  The Strike Doctor is made with actual dry flies; now you can hook that taunting fish!
Irresistible:
The Strike Doctor is not only practical, trout love it! You will be surprised at how many fish are fooled by your upgraded indicator, The Strike Doctor.
Durable:
The Strike Doctor is tied with 10 lb. test fluorocarbon and reinforced with super glue, giving The Strike Doctor both stealth and strength.  The unique attachment system does not slide around once set.  I have landed a 20″ brown on The Strike Doctor – it works!
The Strike Doctor is also available in "Hi-Vis"…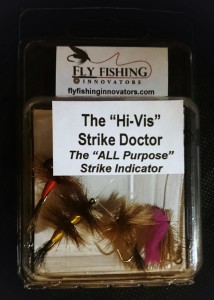 For more ingenious innovations in fly fishing, check out Fly Fishing Innovators.
Excited for Spring's arrival?  Reserve your unforgettable trip to Spruce Creek with Trout Haven!
Or send us an email at andrew@trouthavenguide.com