3 Custom Flies that Catch Trout!
Confidence in your fly selection is of the utmost importance when fly fishing.  Whether you are on new water or your favorite stream, using flies that you know will catch fish makes all the difference.  The following three flies are tried and true – patterns that work on Spruce Creek and ALL of my other favorite streams.
1.  Trout Haven's Madam X
This dry fly is the best searching/stimulator pattern I have ever used.  It takes the buoyancy of an elk hair caddis and combines it with features that resemble the irresistible juiciness of a stonefly or moth.  I pay attention to detail when I tie flies, and the Madam X is difficult to tie – this fly takes about 40 minutes to tie right.
2.  Trout Haven's BWO Nymph
This bead-head nymph is great on days when the BWO hatch is obscured by weather/temperature/whatever.  Fish this nymph like you would any other weighted nymph or swing it like a wet fly – both methods are effective!  It can also be deadly when trailed underneath a dry fly.
3.  Trout Haven's Golden Stonefly Nymph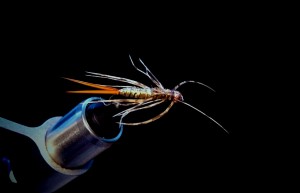 This large nymph is a tremendous pattern in the Spring when larger nymphs are abundant in the stream.  Trout will go out of their way to gulp down this bigger morsel.  Effective in faster water and as the top nymph in a double nymph rig, this stonefly will attract big trout!
Visit Trout Haven's Fly Shop to order flies, and join Trout Haven for an unforgettable fly fishing adventure at Spruce Creek!