Delaware River Fly Fishing
Beat the Heat on Tailwater Streams:
As I dipped the thermometer into the river, I kept my eyes focused on the surface – focused on the isonychias, midges, and sulphurs littering the water, and the big browns feasting on them. The reading was 54 degrees Fahrenheit. Stand waist deep in these waters and you'll soon forget that the air temperature is nearly 90 degrees and the humidity is higher still.
While many anglers flock to the famous waters of the West Branch of the Delaware, the "other branch" remains somewhat of a secret among locals and those in the know. Yes – you will find stocked browns here, but you'll also find an abundant population of beautiful wild browns. They fight hard and, just like their siblings on the West Branch, the East Branch trout are frustratingly picky eaters.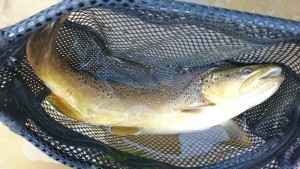 The trout are almost always rising here during the hotter months, but they are usually content to sip on emerging insects rather than the adult stage. If your mind is set on dry fly fishing, at least tie on an emerger dropper to dramatically improve your odds of catching fish. If you are patient, and don't mind cleaning off green algae from your nymph every other cast, nymphing with tiny pheasant tails is deadly on this river…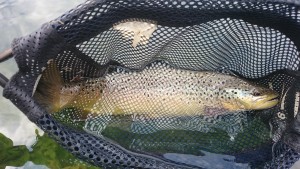 Have you ever caught a trout so colorful that your brain pauses as you stare in awe? That was the case when I landed this beautiful wild brown shown below. I've rarely seen such large and bright red spots on a brown trout over 17″ long.
Here's a video I posted to instagram, footage of the same trout:
What a pretty fish! If you are looking to "beat the heat" in central Pennsylvania, Spruce Creek is running at a cool 65 degrees during the day. Click here to book your trip to Spruce Creek before the season is over!